The current state of Pakistan's politics has reached a dead end, critical issues
of national significance ie terrorism, economic crisis, conflicts among institutions, and absence of constructive dialogue are left behind, says Senator Mushahid Hussain Syed, a renowned analyst, and chairman Senate standing committee on defence, in an exclusive interview with The Truth International.
Asked if parliament was effectively contributing towards 'calming' the present
the disorderly political situation, Mushahid said the legislative body was not playing
any effective role; there is a lack of discussion in parliament and instead, lawmakers were resorting to using abusive language, mudslinging, and accusing each other.
The senator showed a sense of disappointment and fear that is pervasive among
Pakistanis about what the future holds. "All three entities of the state, namely the
judiciary, politicians, and establishment were responsible for the crises being faced
by the country."
The question that some people were drawing a comparison between the current
situation and that of 1970 when there was similar rhetoric about peace but the ground the reality was far from it, Mushahid said that the circumstances today were worse than those of the 1970s. "In 1971, there was clear interference by India, and the election results were not accepted, which resulted in a clear and visible situation.
current situation
However, the current situation is more dangerous because there is a clash between political powers and institutions, coupled with economic crisis and terrorism. These crises have never occurred simultaneously before.
"The way to get out of the current chaotic situation is to shun the impression that one party was strong enough to defeat the other. Instead, acknowledging that various groups possess different types of strengths, such as political, military, legal, governmental, and popular support," Mushahid responded when asked what were the probable venues to get out of the present political fiasco.
ongoing political tug-of-war by Senator Mushahid
Referring to the ongoing political tug-of-war, Senator Mushahid Hussain said that
the first step towards addressing the situation is for the president of Pakistan,
who is also a member of Parliament, to initiate talks between the government and
opposition.
"Secondly, seeking help from influential world Muslim figures such as
Saudi Crown Prince Muhammad bin Salman and Turkish President Recep Tayyip Erdogan could be useful, as their authority and influence may hold sway over the situation because people believe in the authority and influence of these individuals, which could help in resolving the situation."

Asked if by doing so, will we not be inviting them to meddle in our internal affairs and
admitting that we have failed to find a solution to our own crisis, Senator Mushahid emphasized the importance of finding a solution to the problem, 'even if it means
seeking assistance from external sources.'
To a query about the Chinese perspective on the current situation in Pakistan, Mushahid contended that China is Pakistan's strategic partner, and best friend, and stands in solidarity with the country.
Recent Developments in the International Arena
Replying to a question about recent developments in the international arena,
particularly the reconciliation between Saudi Arabia and Iran that took place in
Beijing without the involvement of the United States, Mushahid responded by
sharing his recent visit to China during which he heard the Chinese president
remark on significant changes occurring in the world, unlike any witnessed in the past century.
"While China is rising, the West is experiencing a decline," the senator said and added Saudi Arabia has distanced itself from America and aligned with China and Russia.
"Reconciliation between Saudi Arabia and Iran was seen as a dream and a hope, but it has now materialized, with indications of investment and even an invitation extended to the Iranian president to visit Saudi Arabia.
The news of Saudi Arabia's reconciliation with Iran and Russia has caused a stir in America.
"Regarding competition between China and Russia despite sharing a similar ideology, Mushahid maintained that China aligned with Russia and Pakistan stands to benefit from this development as China is a close ally of Pakistan.
To another query pertaining to Afghanistan and the spillover effects of the Afghan situation on Pakistan, Senator Mushahid opined that it seems the international community has abandoned Afghanistan to its fate, as they have been facing numerous restrictions. "The United States has frozen their (Afghanistan's) accounts and seized their money."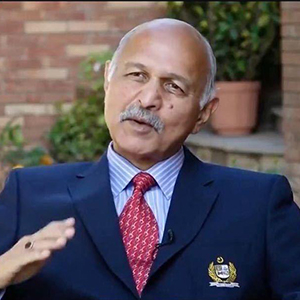 Senator Gave solution to the current Afghan situation
Asked what could be the solution to the current Afghan situation and what role Russia and China could play, and what message Pakistan could draw from this situation, Senator Mushahid said that China, Russia, Iran, Saudi Arabia, and Pakistan must collaborate in their efforts to bring about peace in Afghanistan.
Referring to the formation of new international alliances, Pakistan's strategic location, and its role, Mushahid Hussain replied that Pakistan benefits from its neighboring countries and it is important that it does not participate in any wars, maintaining good relations with the United States is crucial and Pakistan should not sever its ties with America.
Also Read: IPU: Democracy, Development, And Policy