Fuel shortages and painful queues for the pumps are expected to last for the rest of the week but one of Boris Johnson's most senior ministers today insisted that the Army would not be brought in to drive tankers 'at the moment' as panic-buying continues.
Tens of thousands more Britons are working from home today as the fuel crisis saw up to nine in ten forecourts run dry leaving NHS staff including doctors and nurses without petrol and schools planning a return to online learning because teachers can't fill up their cars.
The British Medical Association (BMA) has this afternoon called for healthcare staff and essential workers to be given priority to access fuel, warning that as pumps run dry 'there is a real risk that NHS staff won't be able to do their jobs'.
Drivers queued for four hours or more in lines stretching for miles and some even slept in their cars outside petrol stations as it was revealed Boris Johnson could call in the Army to deliver petrol and diesel across Britain amid a crisis that has seen competition laws suspended to allow businesses such as Shell and BP to share drivers.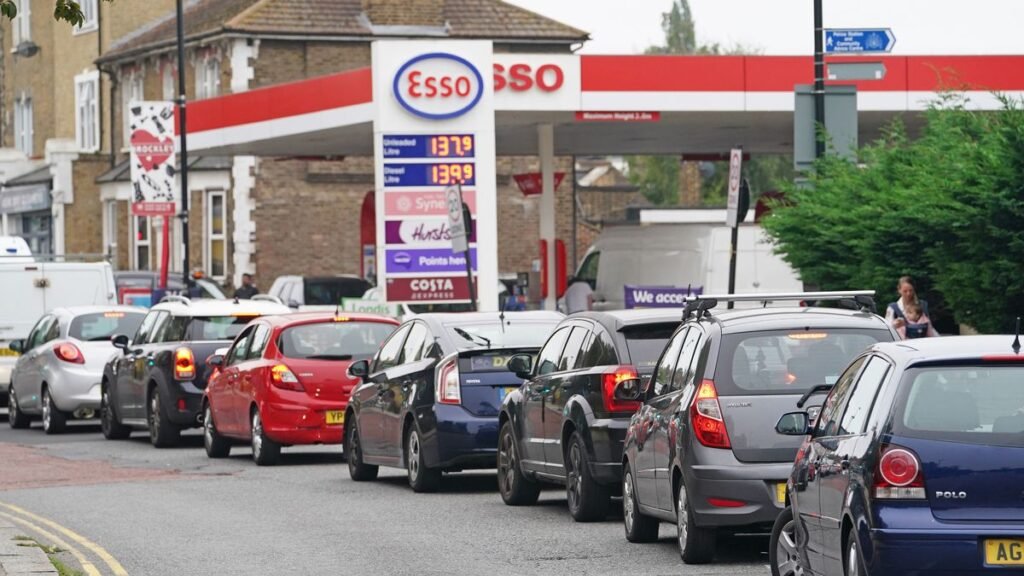 But his plan to bring in 5,000 foreign lorry drivers to deal with the shortage suffered a major blow after the head of an EU truck union declaring they 'will not go to the UK for a short term visa to help UK out of the s**t they created themselves'. Edwin Atema, who represents drivers across the EU and Europe said: 'Before the coronavirus crisis and Brexit this industry was sick already. Plagued by expectation, by irresponsible multinationals who drag down prices, which ended up with drivers voting with their feet and leaving the industry'.
Britain's biggest petrol retailers have said they expect the crisis to ease in the next three days because once people have a full tank, demand for fuel is likely to fall away by Thursday or Friday. And Downing Street again denied there is a shortage of fuel, saying there are 'ample stocks in this country'.
But as Boris Johnson considered emergency plans to halt the petrol panic, Environment Secretary George Eustice has said the Government has 'no plans at the moment' to use soldiers to drive petrol tankers amid continuing shortages at filling stations.
He said: 'We are bringing Ministry of Defence trainers in to accelerate some of the HGV training to clear a backlog of people who want to carry out those tests, and there's definitely a role there for the MOD. In terms of other things we've no plans at the moment to bring in the Army to actually do the driving, but we always have a Civil Contingencies section within the Army on standby – but we're not jumping to that necessarily at the moment.'
A lack of fuel has led to a mass return to working from home today, just weeks after the Government lifted most coronavirus-related legislation to get more people into the office. TomTom traffic data revealed that congestion is down today in all major cities compared to when the chaos began last week.
And petrol stations with a fresh delivery of fuel have already been accused of of hiking fuel prices to as high as £1.57 per litre – up from the national average of £1.35 last week – and another 10p price rise could be on the way, experts have warned, as some garages sold out of fuel in an hour this morning.
Schools have said they will return to the online classrooms used in lockdown if teachers can't get to work – with some parents also unable to drive – while many petrol stations are now prioritising NHS workers in special two-hour slots where they must show ID to fill up.