Former President Donald Trump has called on President Biden to "resign in disgrace" over his handling of the Afghanistan withdrawal and other issues.
"It is time for Joe Biden to resign in disgrace for what he has allowed to happen to Afghanistan, along with the tremendous surge in COVID, the Border catastrophe, the destruction of energy independence, and our crippled economy," the former president wrote in a statement.
The Taliban have rapidly taken control of most of the country as insurgent forces enter the capital city of Kabul, where US troops have been sent to evacuate the embassy.
obs of panicked people can be seen at the Kabul airport frantically trying to flee the city on Sunday. Trump's administration had negotiated the terms of the withdrawal of US troops from Afghanistan by May 1. Trump even considered withdrawing troops from the region before leaving office.
Meanwhile, President George W. Bush, who ordered the 2001 U.S.-led invasion that drove the Taliban from power, said this week that he felt "deep sadness" at the group's takeover of Afghanistan and defended his decision to launch what would become America's longest war.
"Our hearts are heavy for both the Afghan people who have suffered so much and for the Americans and NATO allies who have sacrificed so much," the former president and his wife, Laura Bush, wrote in a letter released on Monday.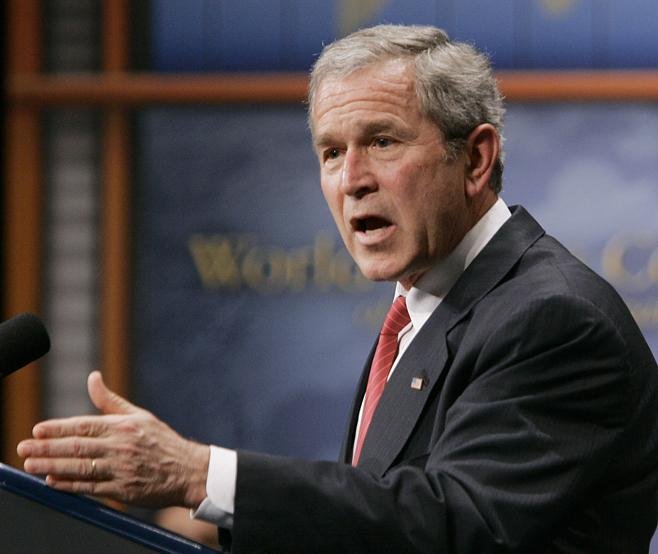 Mr. Bush was in his first year in office, with little experience in foreign affairs, when the Sept. 11 attacks prompted him to deploy troops to Afghanistan to drive out the Taliban government that had sheltered the terrorist leader Osama bin Laden.
But then Mr. Bush turned his focus to invading Iraq, the costly military campaign that would come to define his presidency, leaving the Afghanistan mission to drag on with ill-defined goals and little oversight.