On Thursday, a gunman killed several people at the Kingdom hall of Jehovah's Witness church in Hamburg, Germany.
Police believe he acted alone and are investigating his motive.
The exact number of casualties is unknown, but the gunman is believed to be among the dead.
Shooting at the Kingdom Hall of Jehovah's Witness
According to Bild newspaper, the shooting at the Kingdom Hall of Jehovah's Witness in Germany's biggest port city resulted in the death of seven people and the injury of eight.
Police said in a message on Twitter:
"According to the current state of affairs, we assume that there is one perpetrator."
"Police activities in the surrounding area are being successively discontinued. Investigations into the motives behind the crime are continuing."
A reporter on the scene informed that residents in Hamburg's northern Alsterdorf district had received mobile phone warnings of a "life-threatening situation" and that streets were cordoned off.
Later, television footage showed that numerous police cars and fire engines had blocked the streets.
Some individuals, wrapped in blankets, were escorted by emergency service workers onto a bus.
He said:
"We heard shots," one unidentified witness told reporters. "There were 12 continuous shots."
"Then we saw how people were taken away in black bags."
At around 9 pm, the police received a call and quickly responded to the scene where they found several individuals seriously injured and some deceased.
Furthermore, A police spokesperson stated that after hearing a shot from above, they went upstairs and discovered an additional victim.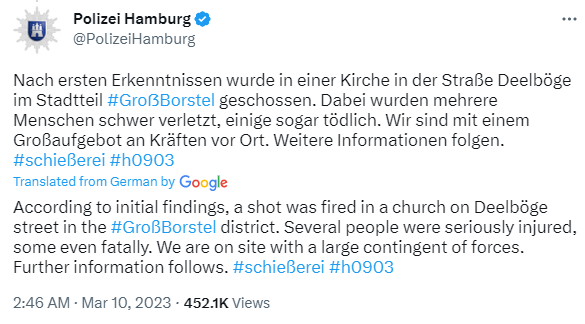 Moreover, Germany has experienced several shootings in recent years, causing concern.
In the western town of Hanau in February 2020, a shooter suspected of having far-right sympathies murdered nine people, including Turkish migrants, before sacrificing his own and his mother's lives.
Likewise, in October 2019, a shooter killed two people outside a synagogue in the eastern city of Halle on the Jewish holy day of Yom Kippur.
Furthermore, The mayor of Hamburg expressed his dismay regarding the bloodshed that occurred on Thursday.
Peter Tschentscher
Lastly, Peter Tschentscher said on Twitter:
"I extend my deepest sympathy to the families of the victims. The forces are working at full speed to pursue the perpetrators and clarify the background."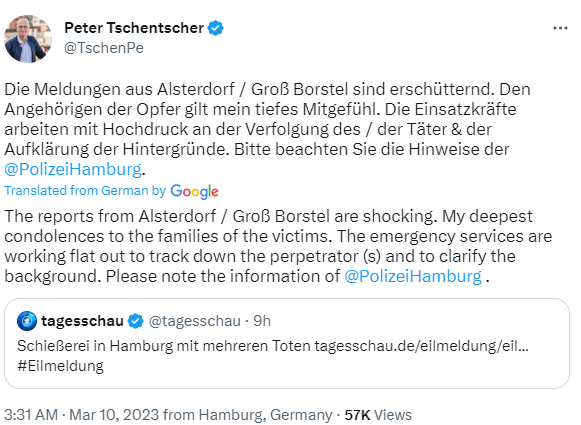 Also, Read More: Afghan Broadcaster Airs Rare All-Female Panel To Discuss Rights On Women's Day