Storm In Central US Brings In Tornadoes Flooding And Heavy Snow:
Storm In Central US Brings In Tornadoes Flooding And Heavy Snow
As of Tuesday afternoon, tornado watches stretched southeast Louisana into northern Georgia, including Birmingham and Atlanta, running until evening. It followed earlier watches to the north and west along a cold front marching eastward across the South.
Another in a recent string of powerful winter storms was tracking Tuesday through the central United States and toward the Great Lakes. It was bringing a multipronged punch of heavy snowfall and gusty winds to the Plains and Midwest, plus severe thunderstorms and flooding in the South.
The storm dropped nearly 2 feet of wind-whipped snow on parts of South Dakota and delivered torrential rain and flooding to a large swath of the central United States. A handful of tornadoes were also spun up, with more forecast to come, in addition to the threat of damaging straight-line winds.
The National Weather Service (NWS) forecast intense snowfall of 1 to 3 inches (2-1/2 to 7-1/2 cm) per hour in parts of Nebraska, South Dakota and Minnesota on Tuesday, accompanied at times by thunder, with more than a foot of snow expected to accumulate.
This is the same storm system that slammed into California over the weekend with record rainfall in the Bay Area and extremely heavy snow in the Sierra Nevada mountains. It has since redeveloped to the east of the Continental Divide.
By Tuesday evening, about a half foot of snow had fallen on the Twin Cities' western suburbs, and 4 inches at Minneapolis-St.Paul International Airport, said Richard Bann, a meteorologist for the NWS Weather Prediction Center in Maryland.
The weather service said the storm front originated from a low-pressure system churning over Iowa.
The wintry blast, expected to spread into New England by Wednesday, was part of a larger weather front bringing heavy showers, severe thunderstorms, hail and tornadoes to the lower Mississippi Valley, Gulf Coast, Tennessee Valley and southern Appalachians.
Tornado watches and severe thunderstorm warnings were in effect across much of Louisiana, Mississippi, Alabama and Georgia, along with flood watches posted along the southern fringe of that zone.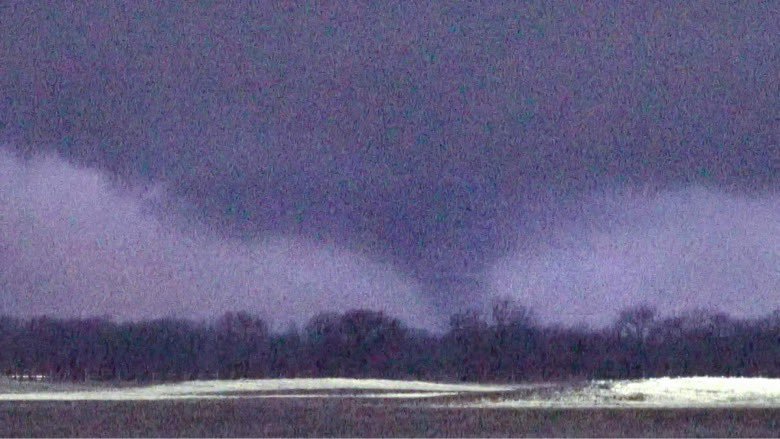 The NWS tallied eight tornado reports as of Tuesday night, plus dozens of instances of high winds causing damage to trees, power lines and homes.
"It's all part of the same system. The heavy snowfall is occurring on the west to northern side of the storm … and then the rainfall and severe weather is across the south," NWS meteorologist Allison Santorelli said.