G77+ Summit
Saudi Arabia's Minister of Foreign Affairs, Prince Faisal bin Farhan, emphasized the Kingdom's commitment to collaborative and holistic approaches for achieving development, prosperity, and stability at G77+ China Summit.
Speaking on behalf of King Salman at the Summit in Havana, Cuba, Prince Faisal conveyed warm greetings from the Saudi leadership and their best wishes for the success of the annual meeting.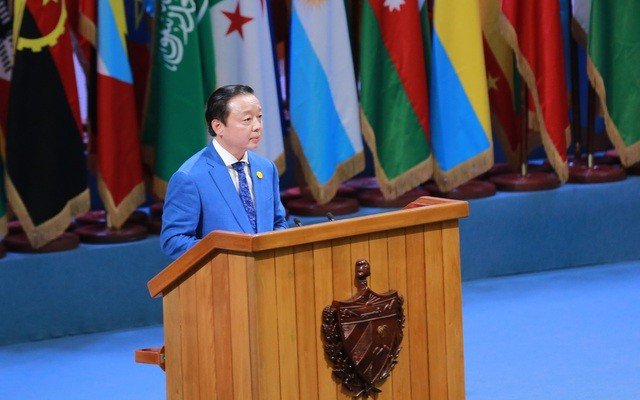 The Group of 77 is the largest intergovernmental organization of developing countries in the UN. It provides the means for the countries of the South to articulate and promote their collective economic interests and promote South-South cooperation for development. Although the members of the bloc have increased to 134 countries, the original name has been retained due to its historic significance.
Saudi Minister underscored Saudi Arabia's strong dedication to development matters. He highlighted the significant role played by the Saudi Fund for Development. It has financed over 700 development projects across 85 countries, totaling more than $18 billion.
These projects have targeted vital sectors such as social infrastructure, transportation, and agriculture.
Prince Faisal emphasized the Kingdom's commitment to investing in clean energy technology as a crucial step toward a just and comprehensive transition to clean energy.
He noted that Saudi Arabia operates within the framework of a circular carbon economy, contributing to carbon emissions reduction efforts.
Prince Faisal expressed Saudi Arabia's view of sustainability as a driving force for growth and progress. The Kingdom strives to incorporate economic, social, and environmental aspects into its development initiatives.
Prince Faisal highlighted Saudi Arabia's engagement with global challenges related to sustainable development goals and environmental issues. He mentioned initiatives like the Middle East Green Initiative and the Saudi Green Initiative, which support global efforts to combat climate change.
Furthermore, Prince Faisal announced the establishment of a global water organization aimed at coordinating global efforts to ensure sustainable water resources and address water challenges comprehensively.
He also mentioned Saudi Arabia's commitment to the UN Convention to Combat Desertification and its efforts to protect lands and natural resources in alignment with Vision 2030.