Prime Minister Anwaarul Haq Kakar has expressed deep concerns about the rising wave of Hindutva or Hindu nationalism, terming it a matter of international concern, including for the United States. He made these remarks while addressing the Council on Foreign Relations in New York on the sidelines of the UN General Assembly.
PM Kakar linked the ideology of Hindu nationalism advocated by Indian Prime Minister Narendra Modi to recent allegations made by Canada against India regarding the killing of a Sikh separatist leader on Canadian soil. He pointed out that ideologues of Hindutva are becoming increasingly emboldened and extending their influence beyond the region, with the unfortunate killing of the Sikh leader serving as evidence of this concerning trend. He also mentioned that, for economic and strategic reasons, some Western players have chosen to overlook this reality.
While emphasizing Pakistan's desire for peaceful relations with India, PM Kakar stressed that such a quest requires reciprocal sincerity from the Indian government. He also highlighted that India's actions in the Indian Illegally Occupied Jammu and Kashmir in 2019 had pushed the entire region into a difficult situation.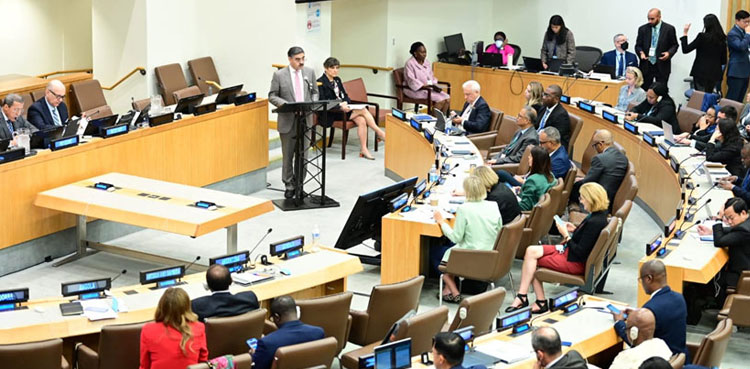 Kakar expressed concern about the deteriorating human rights situation in occupied Kashmir, including attempts by the Indian government to change the demographic composition of the region. He urged the US administration to use its influence with India to facilitate a peaceful resolution of the Kashmir dispute, in line with the aspirations of the people of Jammu and Kashmir, to bring stability to South Asia.
Need of Global Unity
Additionally, PM Kakar reaffirmed Pakistan's commitment to maintaining strong relations with both the United States and China while emphasizing that Pakistan does not engage in camp politics. He underlined Pakistan's belief in the connection between regional peace and stability and economic prosperity and social development. He expressed Pakistan's readiness to collaborate with like-minded partners for a harmonious and prosperous world.
PM Kakar also addressed concerns about the resurgence of terrorist threats posed by groups like the Tehreek-i-Taliban Pakistan (TTP) and called for international unity in confronting this emerging threat. He emphasized the importance of maintaining stability in Afghanistan and welcomed direct engagement between the US and the Afghan government. He reaffirmed Pakistan's commitment to encouraging Afghan authorities to fulfill their obligations, including safeguarding women's rights, promoting girls' education, and preventing the use of Afghan territory for terrorist activities against other nations.