High-level talks were held in Kabul between officials from Pakistan and Afghanistan, where the focus was on the increasing threat of terrorism in the region. Specifically, the banned militant groups Tehreek-i-Taliban Pakistan (TTP) and Islamic State Khorasan Province (ISKP) were discussed in the bilateral meetings.
The Pakistani delegation had discussions with representatives of the interim Afghan government about security-related issues, particularly counterterrorism strategies. The Foreign Office (FO) confirmed the purpose of the talks.
A press release issued by the Foreign Office revealed that a delegation headed by Defense Minister Khawaja Asif met several high-ranking officials in Afghanistan. Those officials include Deputy Prime Minister Mullah Abdul Ghani Baradar Akhund, and Defense Minister Mawlavi Mohammad Yaqoob Mujahid. Additionally, Interior Minister Sirajuddin Haqqani and Foreign Minister Amir Khan Muttaqi were also of those officials.
Pakistan Taliban officials talks
The discussions centered on the escalating threat of terrorism in the region, particularly by TTP and ISKP.
The two sides agreed to work together to effectively combat the menace of terrorism posed by different groups and organizations.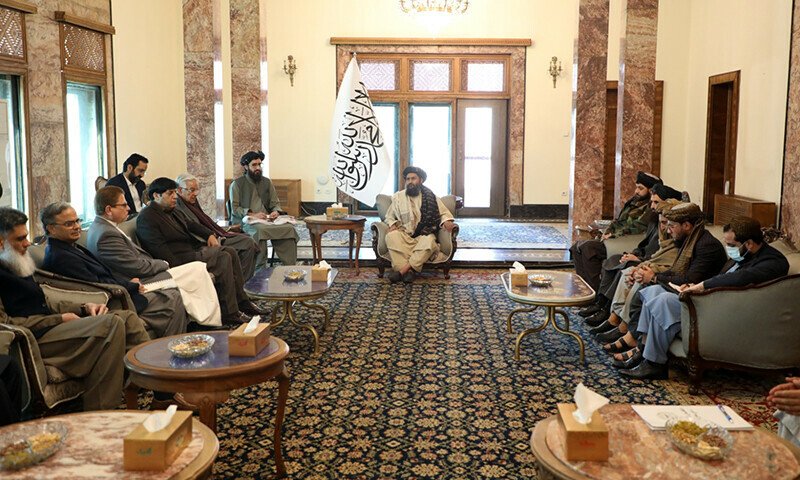 The Afghan prime minister's office has shared images of a meeting between a Pakistani delegation and Mullah Baradar alongside Asif.
The delegation included Inter-Services Intelligence Director General Lt Gen Nadeem Anjum, Foreign Secretary Asad Majeed Khan, Chargé d'Affaires (CdA) to Afghanistan Ubaidur Rehman Nizamani, and Pakistan's Special Representative for Afghanistan Mohammad Sadiq.
The meeting focused on discussions regarding economic cooperation, regional connectivity, trade, and bilateral relations. This development comes as the two countries aim to strengthen their ties.
Mullah Baradar, a representative of the Islamic Emirate of Afghanistan, has expressed the desire for friendly relations between Pakistan and Afghanistan.
The statement suggests that the two neighboring countries should establish a positive economic and commercial relationship for their mutual benefit.
Read more: CJP Takes Suo Motu Notice On Delay In Punjab, KP Elections