North Korean leader Kim Jong Un received several notable gifts during his visit to Russia, including five explosive drones, a reconnaissance drone, and a bulletproof vest, courtesy of a regional governor. This visit included a meeting with the Russian defense minister in Vladivostok, where he inspected advanced weaponry, including a hypersonic missile system.
Kim Jong Un was presented with "five kamikaze drones and a 'Geran-25' reconnaissance drone with vertical takeoff," using North Korea's official name, the DPRK. Additionally, the governor of the Primorye region, bordering China and North Korea, offered Kim Jong Un a set of bulletproof protection and special clothing designed to evade thermal cameras.
Kim's visit concluded as he boarded his armored train in the city of Artyom, north of Vladivostok, for his journey back home. They bid farewell to him with the national anthems of both North Korea and Russia.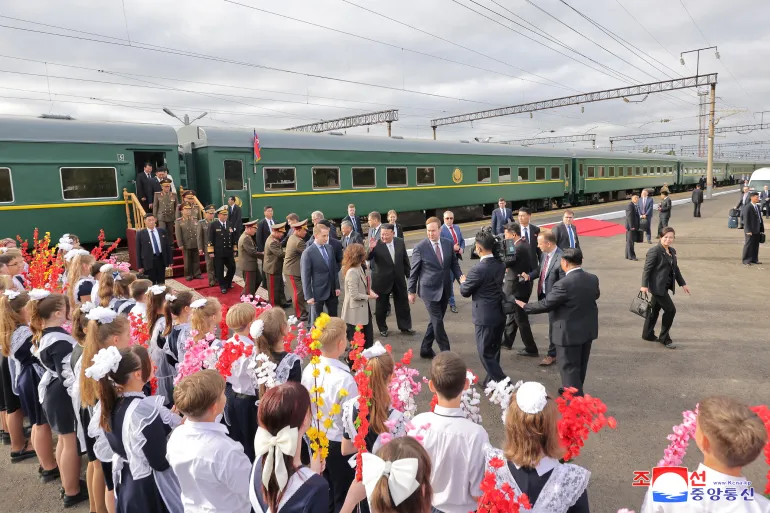 During his six-day stay in Russia, Kim had high-profile discussions with President Vladimir Putin at the Vostochny spaceport. This marked his first official overseas trip since the onset of the coronavirus pandemic, raising concerns in the West that Moscow and Pyongyang might defy sanctions and engage in an arms deal.
Kim's visit heavily focused on military matters, with evident signs such as a mainly military officer entourage, a symbolic rifle exchange with Putin, and a visit to a fighter jet factory in Komsomolsk-on-Amur. Speculations suggest that Moscow is showing interest in acquiring North Korean ammunition for the conflict in Ukraine, while Pyongyang seeks Russia's assistance in advancing its missile program. The Kremlin, however, refuted the claims of such an agreement.
New era of friendship
The North Korean news agency KCNA characterized the atmosphere during Kim's visit as "fervent and warm" and highlighted the emergence of a "new era of friendship, solidarity, and cooperation" between North Korea and Russia.
It is worth noting that Kim chose Putin as his first foreign leader to meet since the pandemic. North Korea openly supports Russia in its invasion of Ukraine, and Kim considers this war a just cause. He has expressed readiness for North Korea to stand with Russia against imperialism.
During their meetings, the two leaders referred to each other as "comrades," and Putin emphasized the Soviet Union's historical support for North Korea, being the first to recognize it 75 years ago upon its establishment.
Russia, along with China, has opposed new sanctions on North Korea, blocking a U.S.-led effort and publicly splitting the United Nations Security Council for the first time since it began penalizing Pyongyang in 2006.