Italy's prime minister has issued a warning emphasizing that the "future of Europe is in jeopardy" following the arrival of numerous migrants on the Mediterranean island of Lampedusa.
This week, thousands of migrants aboard vessels from the North African coast landed on Italy's southernmost island, triggering a crisis that has revived discussions about the allocation of responsibilities among EU member nations.
During a press conference held on the island and attended by European Commission President Ursula von der Leyen, Giorgia Meloni stressed the necessity for the European Union to collaborate in confronting the challenges posed by uncontrolled migration.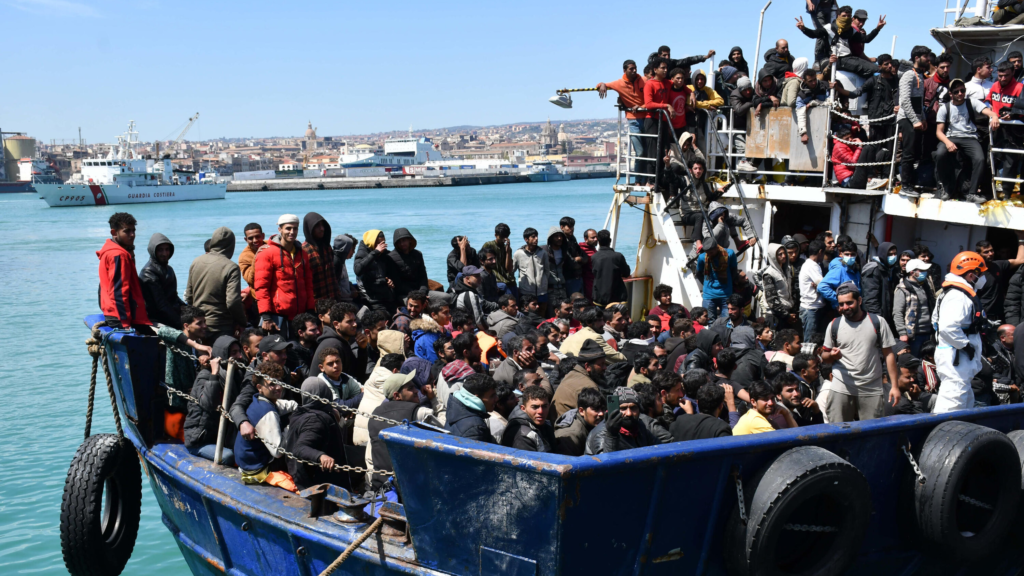 Meloni stated, "What is at risk here is the vision Europe has for its own future because Europe's future hinges on its ability to confront significant challenges."
Between Monday and Wednesday, approximately 8,500 individuals, surpassing the entire local population of the island, arrived in 199 boats, according to the UN migration agency.
Von der Leyen pointed out, "Irregular immigration is a European challenge that necessitates a European response," and she urged other member states to accept some of the migrants.
The Italian Red Cross, responsible for the overcrowded Lampedusa migration center, reported that 1,500 migrants were still present there, even though it has a capacity of only 400 individuals.
Transfers of migrants to Sicily and the mainland have not kept pace with the continuous influx of newcomers, although additional transfers were scheduled for Sunday, as indicated by the Red Cross.
Upon their arrival at the airport, the officials encountered residents who expressed their dissatisfaction with the large influx of migrants and threatened to block their motorcade.
Taking all possible actions
"We are doing everything within our means," Meloni reassured.
Larger vessels operated by NGOs like the Geo Barents from Doctors Without Borders (MSF) are en route to major Italian ports after conducting nearly 500 rescue operations for migrants.
However, dozens of small boats continue to undertake the perilous sea journey to Lampedusa, where the migrant management system is on the brink of collapse.
In July, von der Leyen, with Meloni's strong support, reached an agreement with Tunisia aimed at reducing irregular migration from the North African country.
So far this year, more than 127,000 migrants have arrived on Italy's shores, nearly double the figure for the same period last year.
According to the UN migration agency, over 2,000 individuals have lost their lives this year while crossing from North Africa to Italy and Malta.
The EU is actively working on revising the rules governing the management of migrant flows.
In France, some far-right members argue that Paris should not permit any migrants from Lampedusa to cross the border from Italy.
However, French government sources disclosed on Saturday night that Meloni and French President Emmanuel Macron had a conversation and concurred on the necessity to "enhance cooperation at the European level."