The focus of The Truth International's (TTI) first-ever interview is the President of Inter-Parliamentary Union (IPU), Gabriela Cuevas Barron. She started her journey at the age of 15, spent 20 years in politics, and now serves as a Mexican Member of Parliament. Her focus lies on the Human Rights of Migrants, Children's Protection, fight corruption, and environmental protection.
On the importance of IPU, she said that IPU is a powerful platform for bringing dialect and different parts of the conflict together which is why it's neutral. Since its inception, this platform has helped translate dialect into understating and cooperation. IPU's mandate is to promote democracy and equal representation of all genders in the political sphere. The 24.9% of women parliamentarians worldwide and 5% head of state is quite opposite to the world's population.
Pakistan's Democracy:
IPU's President says Pakistan is a young democracy with important debate, more dynamic politics with significant changes.
"I think, changes are always for good when the parliament and the senate are involved. Because parliament reflects all the plurality of the society in terms of gender, age, religion, ethnicity, and other pluralities."
She appreciates Pakistan's passion for professionalizing their parliamentary duties and having training institutions. Pakistanis are looking for a more dynamic democracy. Since democracy cannot be built from scratch, it has to start with important issues like education, training institutions, and involving all segments of society.
Women's Representation in Parliament:
President IPU appreciated the 30% quota for women in parliament. However, Mexico is thirty years ahead already. They also changed the constitution to ask for gender parity which is the only way to accelerate a cultural change, otherwise, it can take centuries like all Asia-Pacific countries. She said,
"I believe Pakistan can be a leading force in terms of having more inclusive parliaments and democracies".
More than half of the total world's population are women and youth which creates a gap that needs to be fixed.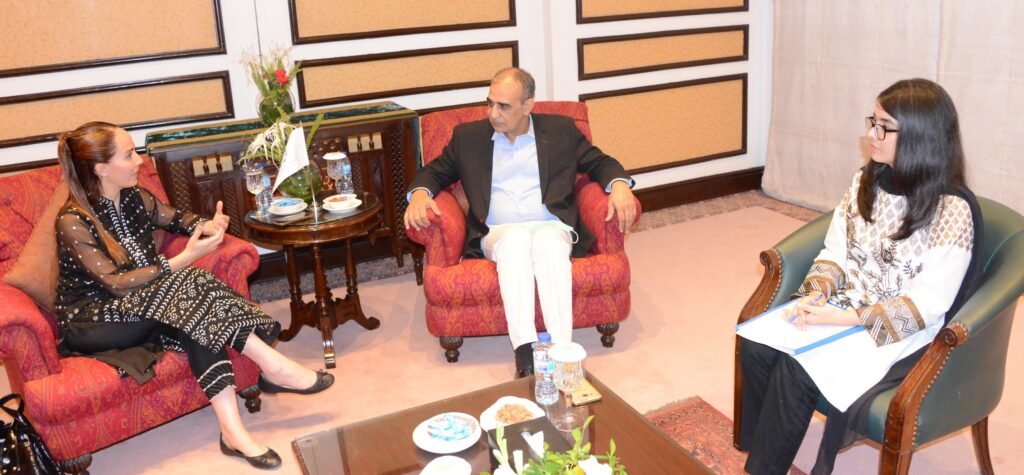 On suggesting other member countries to allow women in their parliaments she stated that IPU is the best organization worldwide, in terms of their acceptance rates for women parliamentarians. UN Women and IPU also published a list of countries that have the highest percentage of women in 2019.
Gwadar City Visit:
After visiting the Gwadar port she mentioned that Pakistan has a privileged geographical location. She said,
"Sometimes we only see the complicated signs of our geography, but we don't see the opportunities".
And Pakistan is now seeing the opportunities with strategic decisions in terms of urban planning. Cooperation and joint efforts are also sending a powerful message in the form of Chinese investment on Pakistani soil. Pakistan might have an important position in terms of international trade, improved logistics, and attracting investments. The global economy also needs national strategies and when these global opportunities are not translated to a national plan, the nation loses. Gwadar project also has potential since it has a beautiful sea, beaches, and wonderful Pakistani people.
About the Human Rights situation in Indian Held Kashmir, she said, IPU's standing is an organization advocating for cooperation and reserving any kind of controversies.
She remarked,
"Democracy, all around the world, is now under a lot of threats from territorial regimes, populist regimes, and dictators".
She expressed her concern that some governments are clearly using people's fear during the pandemic to restrict liberties and human rights. Even Iran and Afghanistan have a good spirit and a will for stronger institutions.
She gave an interesting yet factual statement that without proper channel and legislative support, asking youth to participate in politics is not enough. Her entry into politics was possible because it was allowed in Mexican legislation. One can be elected at the age of 21 for the Federal Parliament.
She put emphasis that it's the politicians' responsibility to make legislation, provide incentives, and welcome youth. She had dreams to bring change and those values and dreams are very much needed in politics. Inviting young people means competitive politics but with better decisions and information.
On gender parity, she said that the world was progressing but women's growth is going backward. The international conversation usually revolves around providing support and care for essential workers. Whereas, the services of health workers are neither recognized nor paid well and 70% of them are women, worldwide. She further said,
"Looking at the statistics of violence against women globally before the pandemic, 137 women were killed every single day, not by a drug cartel or a terrorist group but a member of their own family".
She recalled memory and told us,
"I remember the first time we voted the gender quotas in my country 18 years ago, a Member of Parliament voted against it. I went and asked him the reason, to which he said that I don't want to see my wife in here".
She suggested that Pakistan needs to develop better communication strategies to reach out to more countries and improve its image at the international level. She highlighted,
"Pakistani people are literally offering their hearts. It is a traditional and Muslim society in many ways but, it is also a free society".
She further suggested that Pakistan's beautiful places should be promoted in a touristic strategy. Pakistan cannot escape reality just like any other country and needs to be united to work in a more harmonious way.
When asked to support Pakistani candidate; Sadiq Sanjrani in the next elections for IPU President, she said that she cannot support any candidate because she is the president of the IPU and will be acting as referee.
She called Mr. Sanjrani, a very good surprise. She observed him as an interesting combination of clear determination and a good sense of humor which is very strange in politicians. He is focused on details and is careful. He is punctual about the meetings, is well prepared about different topics, policies, legislations, and happenings around the world.
We could see her excitement while talking about Pakistani food. She liked Pakistani fruits, tried Pakistani vegetable samosas and Pakistani fish, and rated shrimps in Gwadar the best shrimps ever.
Ms. Cuevas Barron said Shukria (thanks) to the team of TTI at the end of the interview. 
For more Latest International news Click on International .