Russian forces have magnified bombardment of Ukraine's biggest cities throwing bombs and rockets on residential areas and killing many people in the eastern city of Kharkiv and four in the western city of Zhytomyr.
The deaths, reported early on Wednesday, came as Ukrainian authorities said another five people had been killed in a Russian attack on a television tower in the capital, Kyiv.
The attacks on urban areas signal a shift of Russian tactics amid Western assessments that Moscow's six-day invasion had stalled. They raised fears the invading troops may now fall back on tactics that call for a crushing bombardment of built-up areas before trying to enter them.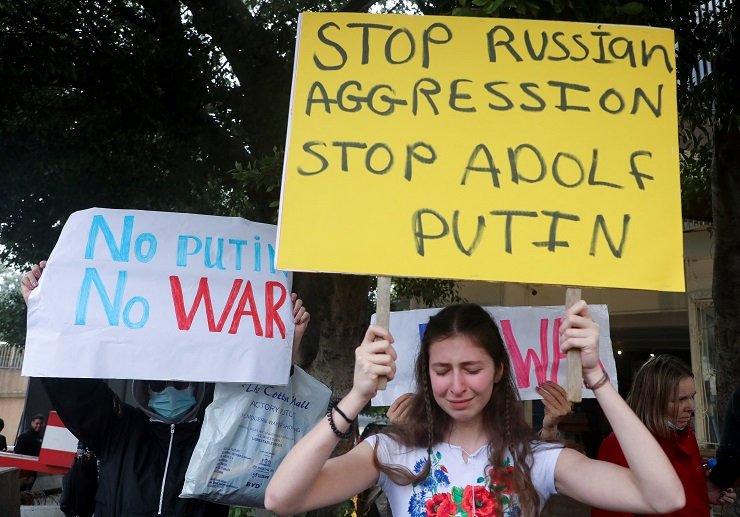 Oleh Sinehubov, the governor of Kharkiv, said that Russian shelling and bombing of various locations in Ukraine's second biggest city had killed at least 21 people and wounded 112.
"Fires due to the air raids are still being eliminated, shells are being detonated," he said.
Anton Herashchenko, an adviser to Ukraine's interior minister, said on his Telegram channel that a Russian cruise missile had hit residential areas in Zhytomyr, about 120km (75 miles) west of Kyiv.
The missile appeared aimed at a nearby base of the 95th Airborne Brigade in Zhytomyr. It set several residential buildings on fire.
"So far, four people have died. Including a child," he said. The total number of casualties since the invasion began also remains unclear.
The United Nations human rights office said on Tuesday that it had confirmed 136 civilian deaths, including that of 13 children. Another 400 people were wounded, it said.
Ukraine's health ministry has previously said 352 civilians had been killed during the Russian attack, as of Monday. The figure included 14 children, it said.
There was no immediate comment from Moscow. Russia launched its invasion of Ukraine on Thursday, describing it as a "special military operation" aimed at dislodging "neo-Nazis" ruling Ukraine.
But facing emboldened Ukrainian troops bolstered by citizen soldiers, Russia has failed to capture a single city since its full-scale invasion began nearly a week ago.
"Looking at the Russian operation so far, they're having tremendous problems with logistics and communications. The whole effort seems shambolic," Michael Kofman, an expert on the Russian military at Washington's Wilson Center, wrote in a tweet.
A miles-long armoured column bearing down on Kyiv also has not made any advances in the past 24 hours, according to a US defence official who spoke to the Reuters news agency, frozen in place by logistics problems, short on fuel and food, and perhaps pausing to reassess tactics.