Taiwan has blamed China for sending 39 warplanes into Taiwan's air defense identification zone (ADIZ) on Sunday. This incursion indicates that China is undeterred by joint naval drill of the United States and Japan in the Philippine Sea and western countries opposition to Chinese invasion in Taiwan.
Taiwan's Defense Ministry said it was the largest such Chinese incursion in 2022. The Chinese flights appeared a day after the United States and Japanese navies put on a massive show of force in the Philippine Sea, including a flotilla carrying two US Navy aircraft carriers, two US amphibious assault ships and a Japanese helicopter destroyer, essentially a small aircraft carrier.
Two US guided-missile cruisers and five destroyers were also part of the exercise. The Philippine Sea is the area of the Pacific Ocean east of Taiwan, between the self-ruled island and the US territories of Guam and the Northern Mariana Islands. The Navy did not say how close the flotilla was to Taiwan.
"Freedom at its finest! Nothing reaffirms our commitment to a #FreeandOpenIndoPacific like 2 Carrier Strike Groups, 2 Amphibious Ready Groups sailing alongside our close friends from the Japan Maritime Self Defense Force," Vice Adm. Karl Thomas, commander of the US 7th Fleet based in Japan, said in a tweet.
A US Navy statement said the mass of warships was "conducting training to preserve and protect a free and open Indo-Pacific region."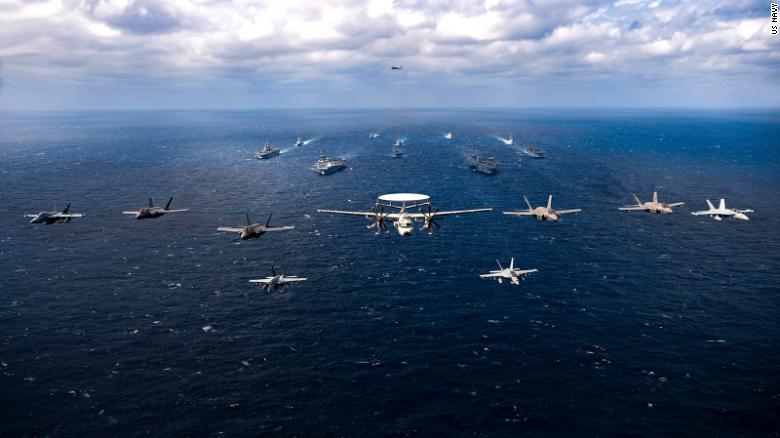 Aircraft fly over a US-Japan naval flotilla that included two US aircraft carriers in the Philippine Sea on Saturday.
Chinese warplane incursions
Taiwan and mainland China have been governed separately since the defeated Nationalists retreated to the island at the end of the Chinese civil war more than 70 years ago.