Aftab Iqbal
ISLAMABAD: Famous TV host, producer, and analyst Aftab Iqbal has predicted the release of incarcerated Imran Khan before the retirement of Chief Justice Bandial.
In his latest Vlog, Aftab Iqbal said that the Islamabad High Court is unlikely to give any relief to Imran Khan in cipher and other cases.
Ultimately, the Supreme Court will release Imran Khan from jail and this will be done before the retirement of CJP Umar Ata Bandial, Aftab added.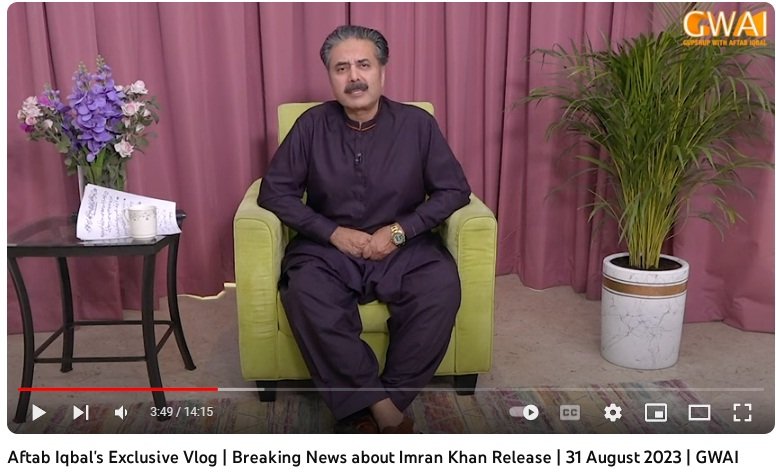 He also claimed that the Official Secrets Act is likely to be scrapped by the Supreme Court. Within a couple of days, a petition is being filed in the apex court against the Official Secrets Act, he said.
TV Host and Analyst said that within a few days, Chief Justice Bandial would declare the Official Secrets Act unlawful as President Alvi had already said that he did not approve the Bills.
He said that the chief justice would just confirm from President Alvi whether he approved the Bills or not.
President Alvi had already stated that he had not signed the Bills and that he ordered his staff to return both Bills, but the staff did not follow his orders.
Aftab Iqbal claimed that this would be enough for the chief to strike down the Official Secrets Act, leading to the release of Imran Khan from jail.
Meanwhile, Aftab Iqbal claimed that a row will continue to persist between the Establishment and the Judiciary even after the oath-taking of Justice Qazi Faez Isa probably on the 16th of September.
Worth noting is that Aftab Iqbal has turned into a staunch supporter of Imran Khan. He has shifted to Dubai to stay away from the grip of the anti-Imran Khan forces in the country.
As Aftab Iqbal is a strong supporter of Imran Khan, it is understood that he will dislike the rivals and competitors of the PTI chairman.
Nonetheless, in the next two weeks, we will be able to see to what extent the predictions of Aftab Iqbal are true.
The incumbent chief justice of Pakistan Umar Ata Bandial is scheduled to retire on Sept 16, 2023. Before his retirement, the CJP can announce major decisions in important cases involving Imran Khan and the high stakes of the Establishment _ that can be shocking for many and good for others.