Veteran comedian Umer Sharif has left for United States on mid-day Tuesday, says his son Jawad Omar at Airport talking to media requesting people to pray for his health. His third wife Zareen Ghazal is accompanying him in the air ambulance.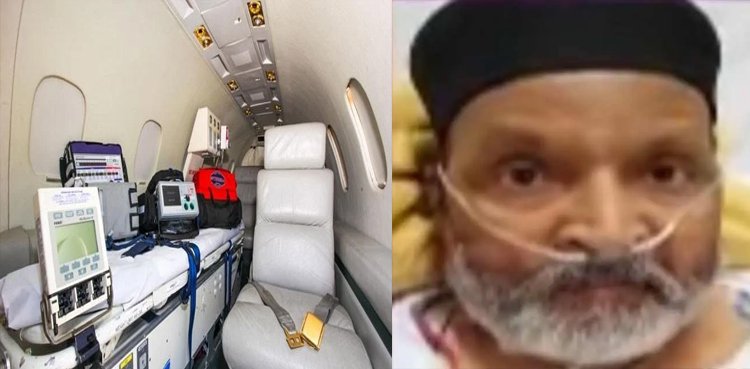 PPP spokesperson Murtaza Wahab had already shared on Twitter that he would be leaving today. The politician took to social media and confirmed that the artist has been taken to the airport where he will be flown out to Washington for his treatment in an air ambulance. 
"Umer Sharif Sahab is on his way to the airport for his flight to Washington," Wahab tweeted, adding, "Please remember him in your prayers." On Monday, it was reported that Sharif has been shifted to the critical care unit (CCU) after his health deteriorated. He was said to have been kept under observation for 48 hours. 
Last week, it was reported that the famous comedian has been issued a US visa where he would be flown to undergo the procedure. Sharif, who has been undergoing treatment at a private hospital in the metropolis, was deemed fit to fly abroad for further treatment on Tuesday.
Meanwhile, the Sindh government approved the release of Rs40 million for Sharif's treatment. The funds are to be used to cover the expense of an air ambulance and other related costs for Sharif's treatment abroad, stated the order issued by the provincial finance department, a copy of which is available with the media.