Gharida
ISLAMABAD: Journalist Gharida Farooqi had a photo shoot and she stunned her followers by sharing her pictures on the Instagram. She also gave some fashion advice to women.
In her Instagram post, Gharida emphasized the importance of three key elements: "Smile, Confidence, and Style. That's all a girl needs to wear…" Her post received a variety of responses, with opinions divided.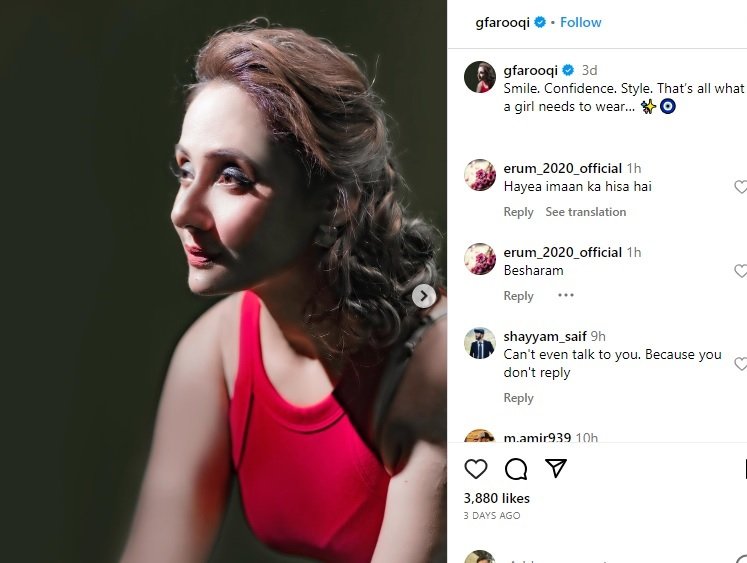 Gharida Farooqi is a well-known and a bold media person in Pakistan.
Notably, she faced criticism last year when former Prime Minister Imran Khan made comments about her.
Khan faced backlash from both journalists and politicians when allegations arose that he suggested Gharida invited online harassment by "intruding into male-dominated spaces."
These remarks came during a conversation with representatives from the National Press Club (NPC) and the Rawalpindi Islamabad Union of Journalists (RIUJ) in Islamabad. Khan responded to the question about the harassment and trolling of female journalists at his party's rallies.
Additionally, the Committee to Protect Journalists highlighted this incident in their article published on May 5, 2022.
Enraged PML-N leaders getting ready to launch a new political party
Meanwhile, two stalwart PML-N leaders Shahid Khaqan Abbasi and Miftah Ismail are getting ready to launch their own new political party. PPP leader Mustafa Nawaz Khokhar is also joining them to launch a new party.
They will soon announce the name of their party ahead of the arrival of PML-N supremo Nawaz Sharif. Elder Sharif is returning from London on Oct 21.
Shahid Khaqan Abbasi served as Prime Minister of Pakistan when the Supreme Court disqualified Nawaz Sharif in the notorious Panama case. The SC's decision led to the removal of Nawaz as PM.
Meanwhile, Miftah Ismail has been part of the Shehbaz Sharif cabinet as Finance Minister hardly for five months. However, Nawaz Sharif and Ishaq Dar did not tolerate it and they removed him as the PDM's finance minister.