Rakhi Sawant revealed that she and her husband Adil Khan Durrani had divorced following days of conflict, disagreements, and allegations. 
She revealed Adil's purported lover Tanu and said that her husband had finally abandoned her to be with the other lady.
Rakhi disclosed to a media source that Adil had been cohabiting with another woman and that he had finally broken up with her.
According to Rakhi:
"The other day, he asked me to apologise in the media. He told me that he will come back only if I apologise. He told me that he will leave everything and will come back but he did not return." 
She Further Added:
"He is staying with that girl. Shame on that girl. Finally, Adil has left me. Now, I have shared everything with the media."
The 44-year-old had previously declared that her "marriage is in jeopardy" due to her spouse's unfaithful connection.
"Through all of you, I'd want to warn the girl in Adil's life who misused the situation while I was on Bigg Boss Marathi 4.
I will show all of their photos when the time is right, but I will not ask for her identity.
Adil pressured me to keep our marriage a secret for eight months because of his relationship with that lady.
I didn't say anything till now.
He was first opposed to our union, but later changed his opinion owing to media concern, she alleged.
Rakhi also blamed Adil for her mother Jaya Bheda's death, claiming she would be alive today if she had received medical care on time.
In the middle of Rakhi's severe charges, Adil posted two strange remarks on social media:
Adil posted a message on social media claiming Rakhi had treated him unfairly.
 "Doesn't mean if I don't talk about a woman back I am wrong. It's only because I respect my religion and I have learned to respect women. The day I open my mouth and speak what I am going through and what is she doing with me she can't even open her mouth after that. So the only reason she wants to come every day and tell people that Adil is bad bad and bad."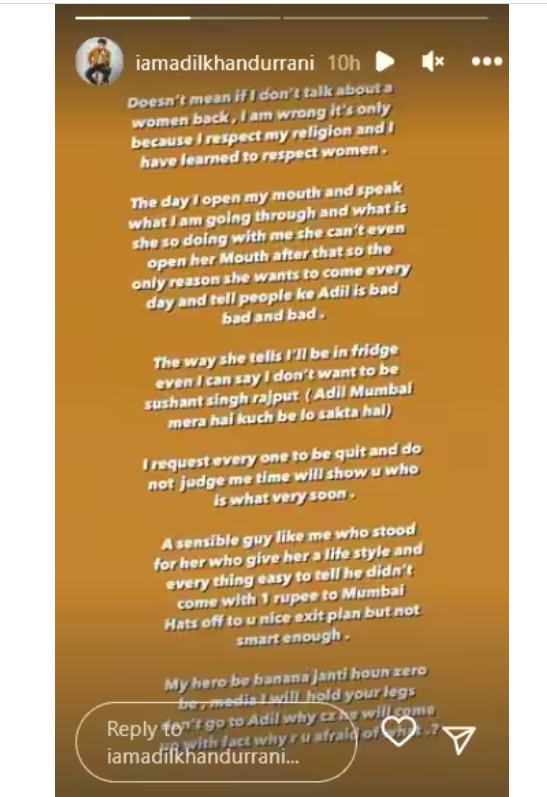 Rakhi Sawant astonished everyone when she announced her engagement to Adil Khan in January of this year.
While photos of her and Adil's court marriage circulated online, the Bigg Boss star subsequently confirmed that the two married in July of last year.