After the government passed a bill protecting the rights of Pakistan's transgender community, the entertainment industry can easily depict trans characters and their accomplishments in drama serials.
As a result, in his upcoming project with Saba Qamar, actor Muneeb Butt will play the country's first Transgender Assistant Commissioner.
The actor revealed his role in a series of photos posted on Instagram. He captioned:
"Am really excited to announce that I am playing a very unique character of the first trans Assistant commissioner in my upcoming project.
Something that breaks the stereotypes in our society.
I had been anxiously waiting to reveal the character that I will be playing soon. It has been the most challenging role I have ever had to play, where I had to truly get out of my comfort zone. Hope you enjoy the journey with me. Will be looking forward to your feedback.
Special thanks to my costar @sabaqamarzaman
It's not every day that one gets to do a project like this one. An Idream entertainment special coming soon to ARY !! "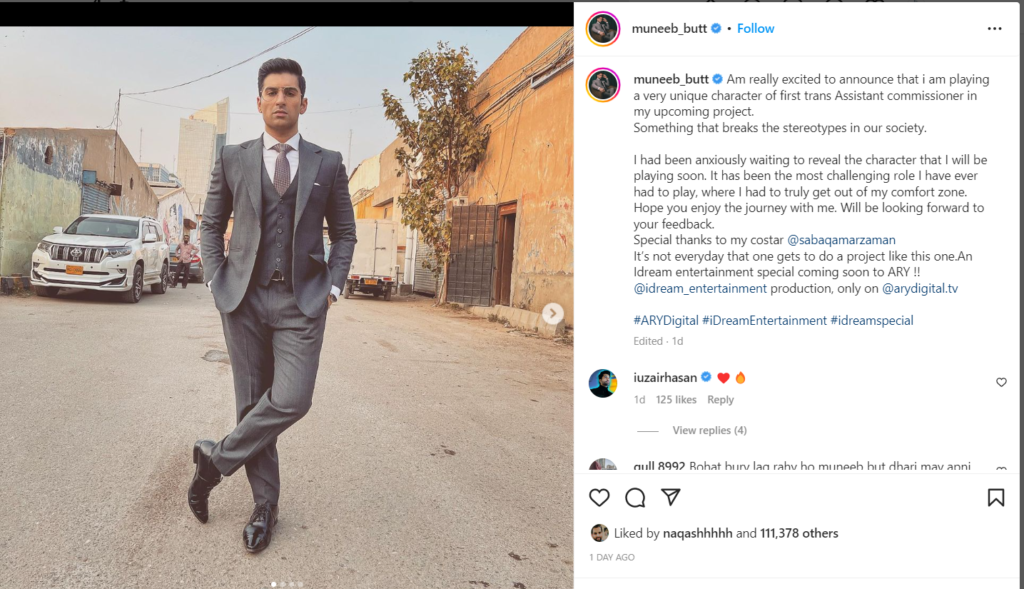 There are still no details available regarding the plot, name, release date, or the rest of the cast.
Qamar is working on another intriguing project at the moment. The actor finally gets to play the part of a lifetime after longing to portray a politician on screen.
In Qamar's upcoming film Mandi, the actress will play a politician by the name of Uzma.
The web series also features Mikaal Zulfiqar and is Ainy Jaffri's return to the screen.
However, neither the actors nor the producers have confirmed that Maryam Nawaz Sharif, PML-N vice president, is heavily influenced by Qamar's character Uzma.