What Did Adil Raja Say About Kubra Khan, Sajal Aly, Mehwish Hayat & Mahira Khan? How Did They Respond?
What Did Adil Raja Say About Kubra Khan, Sajal Aly, Mehwish Hayat & Mahira Khan? How Did They Respond?
It all started with a video blog posted by the Soldier Speak YouTube channel, which is run by Adil Farooq Raja, a former Pakistan Army officer who has since left the country and is at odds with former Chief of Army Staff General Qamar Javed Bajwa.
Adil Raja, a well-known establishment critic, claimed that some Pakistani actresses were "trapped and used by the establishment for lewd purposes."
Raja claimed that the actors were used as "bait to record immoral clips of politicians" while only using their initials.
In the midst of the ongoing controversy involving prominent Pakistani actresses, Kubra Khan issued a statement warning Major (r) Adil Raja to withdraw his statement within three days or face legal action for allegedly waging a malicious campaign against her.
Kubra Khan and three other Lollywood actresses, along with General (r) Qamar Javed Bajwa and former ISI chief Faiz Hameed, have been charged with conspiracy to deceive politicians.
The star of "Na Maloom Afraad" has threatened to sue Raja, a retired army officer who blogs from London about senior army officers' alleged involvement in Pakistani politics, for defaming her with false claims.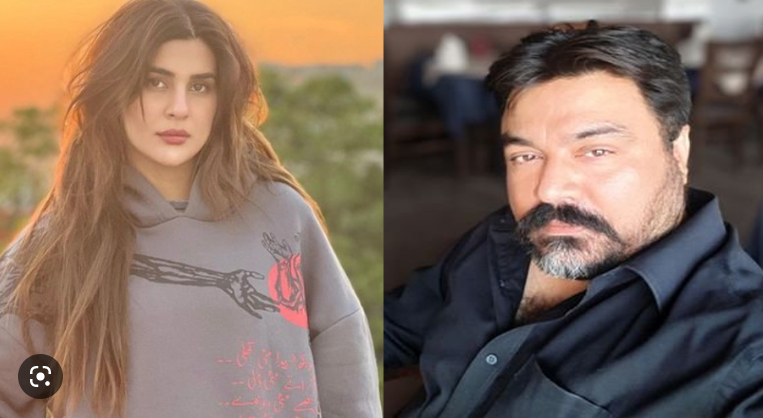 In an Instagram statement, Kubra threatened to seek justice by knocking on the doors of the British legal system if Raja did not retract his statement and apologise.
A well-known actress warned Raja to provide hard evidence to back up his claims or face a defamation lawsuit.
Kubra added on her Instagram story:
Kubra Stated
"I stayed quiet initially because obviously a fake video isn't going to take over my existence But ENOUGH IS ENOUGH.
Apko lagta hai ke koi random log Mujhe pe behte bithaye ungli uthayenge Aur main chup behtoongi toh apki soch hai.
So Mr. Adil Raja before you start to heap allegations upon people have some proof first."
She further added:
"You have a total of 3 days to come up with this proof which you claim is haq and sach.
If not, either retract your statement and publicly apologise or I will be suing you for defamation.
And don't worry, lucky for you I'm not just from here I am from UK so I'll come there if I have too! Cause Main SACH pe hoon, Main HAQ pe hoon AUR MAIN KISI KE BAAP SE NAI DARTI."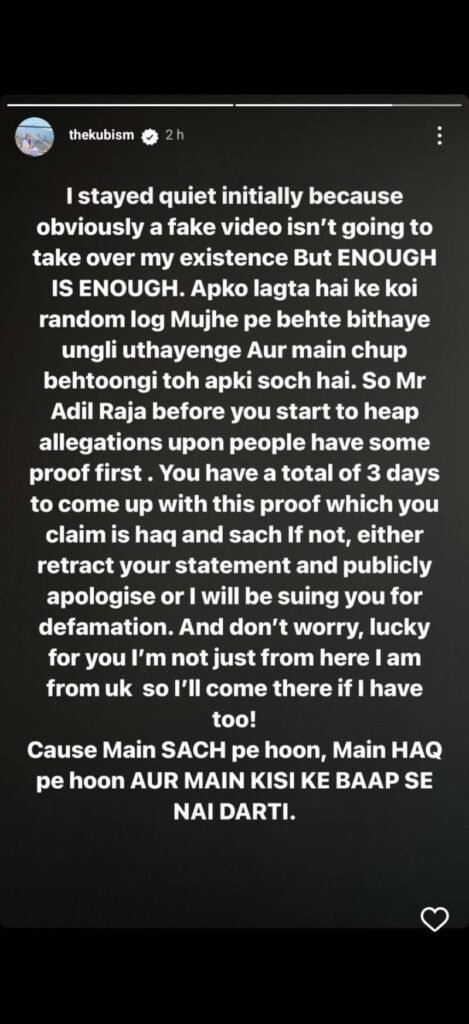 Raja recently claimed in his vlog that some actresses were working on a project with powerful army officers.
Despite the fact that he only mentioned their initials and didn't reveal their full names, social media users recognised the actresses he was referring to and began posting images and videos of them with disparaging captions.
Sajal Aly responds to 'character assassination' propaganda by Adil Raja
After controversial figure and former military man Maj (r) Adil Raja made accusations against Mom actor and others, Pakistani actor Sajal Aly broke her silence regarding crude social media posts.
After all of these posts being viral on social media, Sajal Aly tweeted:
Mehwish Hayat Posted on her Instagram story: