Celebrities react to Feroze Khan's defamation notice:
Feroze Khan, a Pakistani actor, has sued his ex-wife Aliza Sultan, other members of the entertainment industry, and others for false accusations and defamation.
Feroze Khan has been making headlines in recent months.
It all began with his bitter divorce from Syeda Aliza Sultan, which was followed by her allegations of domestic abuse.
Many celebrities spoke out against Feroze and defended Aliza Sultan after photographic evidence of domestic violence surfaced online.
Following this, Feroze tweeted that he is fighting his case in court and called the whole thing a "plot to defame him."
Feroze Tweet
 "Whoever double-crossed will be sent to jail; now the mission is to change the narrative."
Feroze Khan's co-stars who made disparaging remarks about him have all received legal notices.
On January 17:
The actor returned to Twitter and said he had sent a defamation notice to those who had made unfounded and unjustified accusations against him.
Feroze Another Tweet
– Defamation Legal Notice Has Been Served By My Legal Team To Those For False and Baseless Allegations. Sincerely yours; FK
Feroze demanded Rs 20 million in damages from his ex-wife, Syeda Aliza Sultan.
And other Celebrities such as:
Musaddiq Malik, Sharmeen Obaid Chinoy, Asim Azhar, Osman Khalid Butt, Mira Sethi, Minal Khan, Aiman Khan, Sarwat Gilani, Yasir Hussain, and Farhan Saeed Butt.
Some people backed him up, saying he was exercising his right, while others opposed his decision to sue his fellow musicians.
Others, on the other hand, expressed their delight that these celebrities spoke out against the Hubs actor.
The musicians named in the defamation suit list have yet to respond, but Yasir Hussain recently posted an Instagram story about the situation.
He captioned an Instagram photo of a boy:
"A stupid person first abused his wife, and then put the artists' numbers on display." He also included a phone number list for the artists.
"Now, a random person—the person in the photographs—has approached me for a role in my next drama or for Rs 0.1 million," he continued.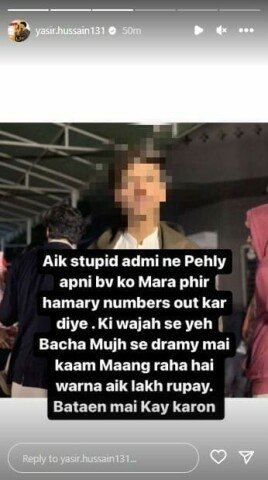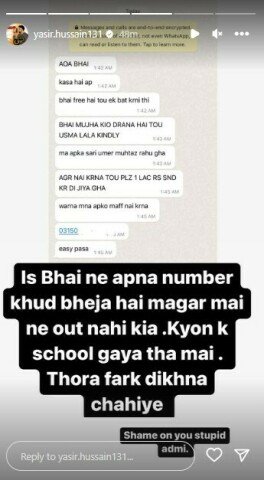 Sarwat Gillani shared a post on Instagram where she shared a screenshot of wrong number calls.
she wrote:
"It is bizarre and despicable that private information, including phone numbers, of various famous individuals, has been publicly shared on the absurd pretext of issuing legal notice to them by @ferozekhan Not only are such actions clearly illegal but also demonstrates the total lack of maturity to handle matters in a civilized way.
Two days ago @ferozekhan had one ex-wife and her lawyer now he will have to face 10 celebrities and their lawyers who stand against him. Good luck"!
Screenshot
Other celebrities posted on Instagram: