Bollywood actress Kajol was described as a "dusky diva," When she initially entered the Bollywood Industry and she has repeatedly been accused of undergoing skin-lightening procedures.
Despite the fact that the actress rejected the rumours, online fans routinely compare her before and after images.
Kajol's Instagram Post:
In a new Instagram post, Kajol poked fun at people who questioned her about 'how she become so fair.'
In an Instagram story, Kajol posted a photo of herself wearing a black face mask that covered most of her face but her eyes.
The actor wore black sunglasses and said in the caption:
"To all those who ask me how I became so fair. #sunblocked#spfunbeatable."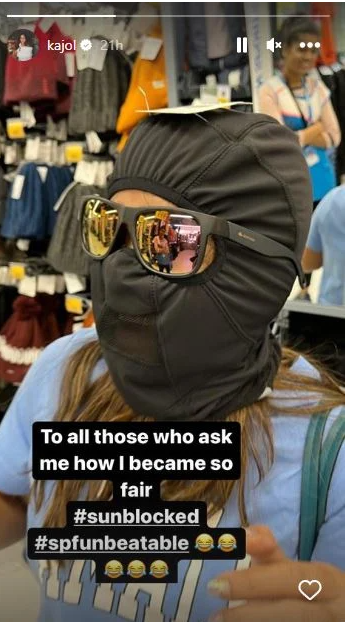 In 2014, Kajol discussed her purported surgery, saying:
"I have not undergone any skin whitening surgery. I have just stayed out of the sun. For 10 years of my life, I was working all the time under the sun, which is why I got tanned. And now I am not working in the sun anymore. So I've got untanned. It's not a skin whitening surgery, it's a stay-at-home surgery"
Kajol was most recently seen in filmmaker Revathy's Salaam Venky, in which she co-starred with Vishal Jethwa.
The actor's next appearance will be in the online series The Good Wife, an Indian translation of the American series of the same name.
When asked about her film preferences, Kajol said:
"A lot of people come up to me with just an idea; it doesn't work for me, as I need to read the whole script. There are certain genres that don't interest me. I don't want to do a dark film, and I am very clear about it."
Also Read,