Pakistani celebrities residing in Karachi broke the silence on social media by lashing out against the way Sindh Government has been handling flooding sewage that has drowned the entire Karachi.
Feroze Khan, one of Pakistan's leading actors responded to Bilawal Bhutto being straightforward about the Sindh Government when Bilawal Bhutto tweeted about how Karachi has come to its' present condition for the first time in 90 years. To this, the actor questioned the PPP politician whether he and his party members are aware of the situation in Karachi for the past decade and then satirically remarked
"What's your party been doing handing out ajraks?"
Further, questioning the contribution of Sind Government he asked,
'Where did the tax go? Zero infrastructure? My city and the people are both underwater Mr. Zardari.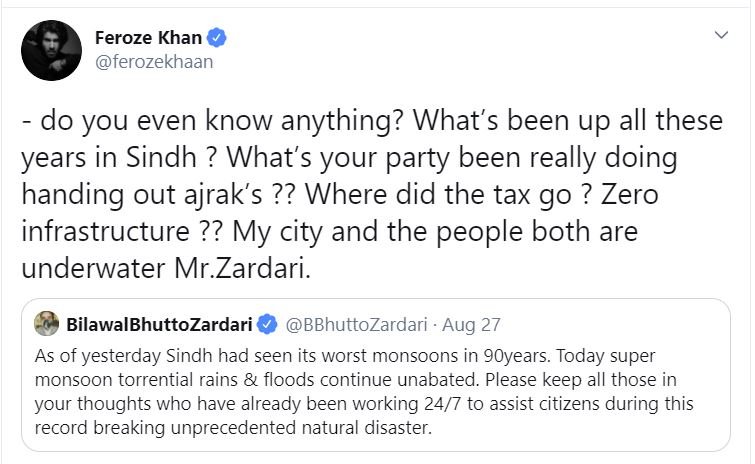 Famous actor Muneeb Butt posted 5 pictures of the flooded city on his Instagram account and wrote a caption about how helpless the citizens are and how the government isn't intervening. He categorically addressed PTI, PPP, and MQM complaining about the current situation asking Imran Khan for help.
His wife, another renowned actress, Aimen Khan commented
'Shame on the Sindh Government'
and other actresses, Shagufta Ansari commented questioning the utility of taxes,
'Hum jo taxes day rahay hain who kahan ja rahay hain?'
You can Also check on more Latest International news