Angelina Jolie, a renowned Superstar has announced the recent brand launch of her upcoming Clothing collection named Atelier Jolie.
As per Maleficent:
The objective of the project is to Provide Space " where everyone can create."
On Wednesday, Angelina shared the news of her new brand launch by posting about it on Instagram:
She captioned her post: "Atelier Jolie is a place for creative people to collaborate with a skilled and diverse family of expert tailors, pattern makers, and artisans from around the world."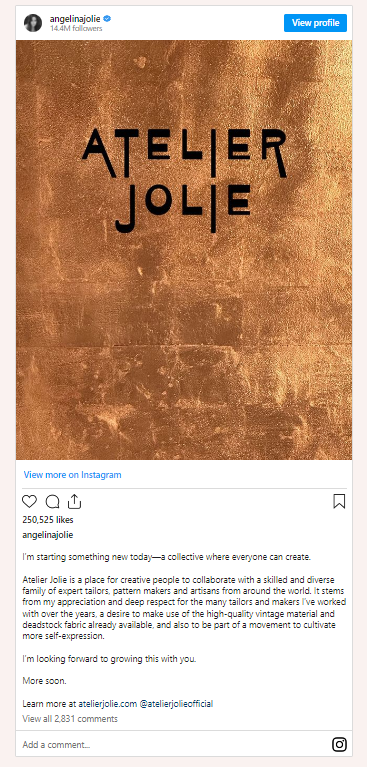 She further added: "It stems from my appreciation and deep respect for the many tailors and makers I've worked with over the years, a desire to make use of the high-quality vintage material and deadstock fabric already available, and also to be part of a movement to cultivate more self-expression."
Also, She went on to say:
I'm looking forward to growing this with you.
More soon.
According to the post on the official account of Atelier Jolie, the brand will be launched in the coming fall this year.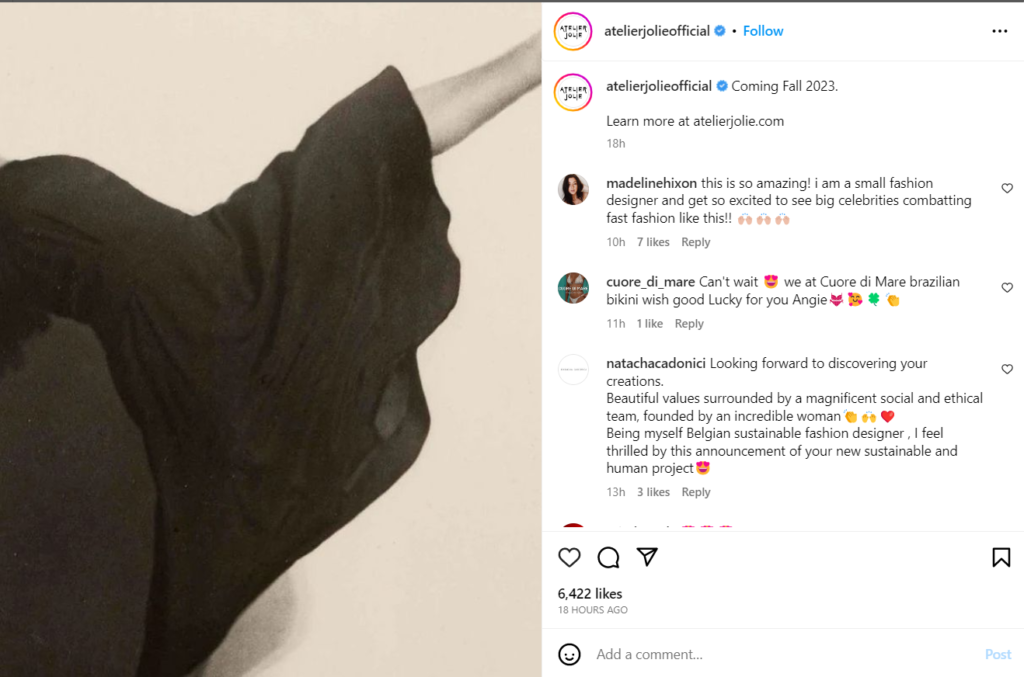 So, The launch of the brand was in process for years, and Angelina emphasized giving importance to the brands, and we must appreciate and respect those who are not even getting credits for their marvelous jobs by making clothes, embroideries, and fabrics. we must put them on front.
Aim – ( Atelier Jolie )
Furthermore, The source added that the aim of the brand is to create space for people to be more creative and focused on quality, and craftsmanship leading to Less Waste.
According to the Magazine, the actor often repeats her clothes.
On the Red Carpet Events, her daughters Shiloh Jolie-Pitt and Zahara Jolie-Pitt are often seen wearing their Mommy's Clothes.
Also, The brand is only going to use used or Leftover Fabric to encourage and motivate people to wear their clothes more than once. and become habitual of repeating clothes.
According to the Website, it will "bring together a diverse team, including apprenticeships for refugees and other talented, under-appreciated groups, with positions of dignity based on skill".
Also Read: Travis Scott Reportedly Jealous As Kylie Jenner Finds New Flame In Timothee Chalamet