Paparazzi angered Alia Bhatt by clicking photos at her home, which she called an invasion of privacy.
The pictures captured her peeping outside her home balcony, and the photographers took the photo from the building next to hers.
Bhatt looked up and saw two photographers taking her pictures from the top of the adjacent building.
And then,
Alia posted a story on her Instagram account to criticize the photographers and tagged Mumbai Police in the post.
Moreover, She felt like the photographers were spying on her.
Alia Bhatt's Instagram post
In her Instagram Post, She wrote:
"Are you kidding me? I was at my house, having a perfectly normal afternoon, sitting in my living room when I felt something watching over me.
I looked up and saw two men on the terrace of the neighboring building with a camera right at me.
In what world is this okay and is this allowed?
This is a gross invasion of someone's privacy.
There's a line that you must not cross, and it is safe to say that all lines were crossed today. @mumbaipolice."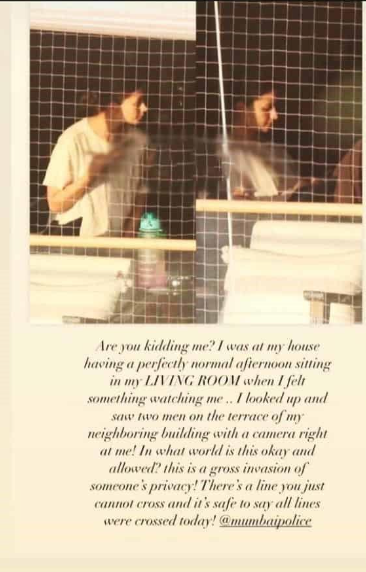 Furthermore,
After she posted, other celebrities, including Janhvi Kapoor, Anushka Sharma, Karan Johar, and Arjun Kapoor, stepped forward to support the Raazi actor and share similar experiences.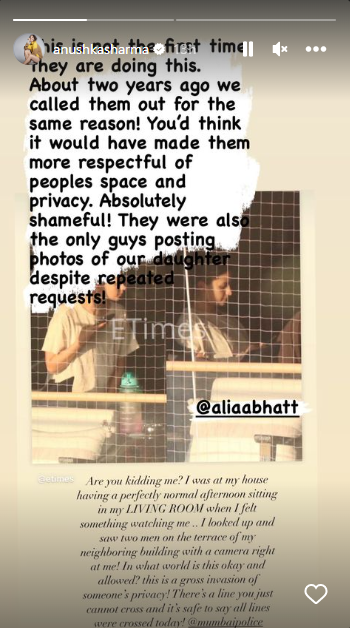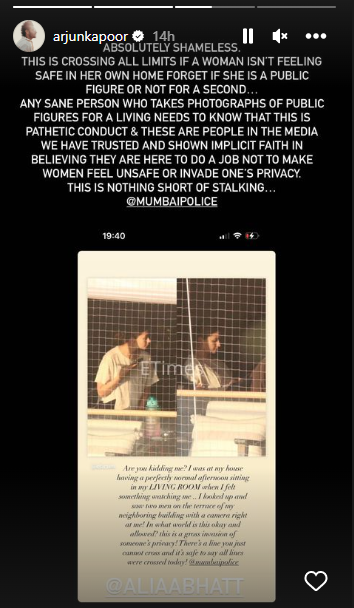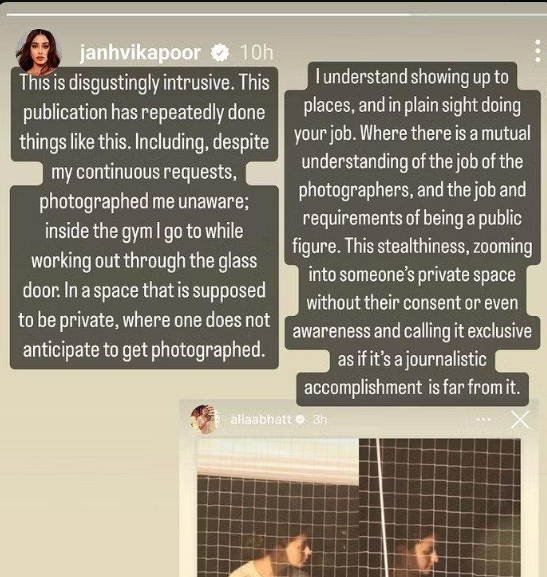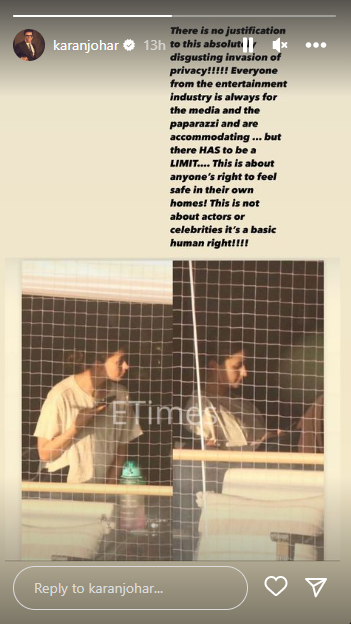 Read More: Doppelganger Of Alia Bhatt Getting Fame On Social Media
Furthermore,
In November, Bhatt welcomed her first child with her husband Ranbir Kapoor.
Her upcoming appearance on the big screen will be in the film "Rocky Aur Rani Ki Prem Kahani," which stars Ranveer Singh, Preity Zinta, Shabana Azmi, Dharmendra, and other well-known actors.
Finally, This film is scheduled to be released in Indian cinemas on July 28 of this year.
Additionally,
Bhatt is preparing for her debut in Hollywood with the movie "Heart of Stone," which features Gal Gadot and Jamie Dornan.
And The film will be released on August 11 on Netflix.