When fans become so obsessive that the line between the actor and the character they play becomes blurred, it can lead to fanaticism. Actor Sabeena Farooq, who portrays Haya in the hugely popular show Tere Bin, addressed the hate she has been receiving, including threats, on Instagram. She warned YouTubers who are sharing fake content to stop, or she will publicly name and shame them.
On Saturday, Farooq posted a message on her Instagram story expressing her concern. She acknowledged that it was acceptable when the jokes were harmless, but the situation has become too extreme.
"I have been generous and tolerant about the jokes and memes related to my character in Tere Bin, but there is a limit to everything. It is really disturbing for me and my family that you are posting fake and absurd content on YouTube and threatening me. I want to remind everyone that IT IS JUST A CHARACTER," she emphasized.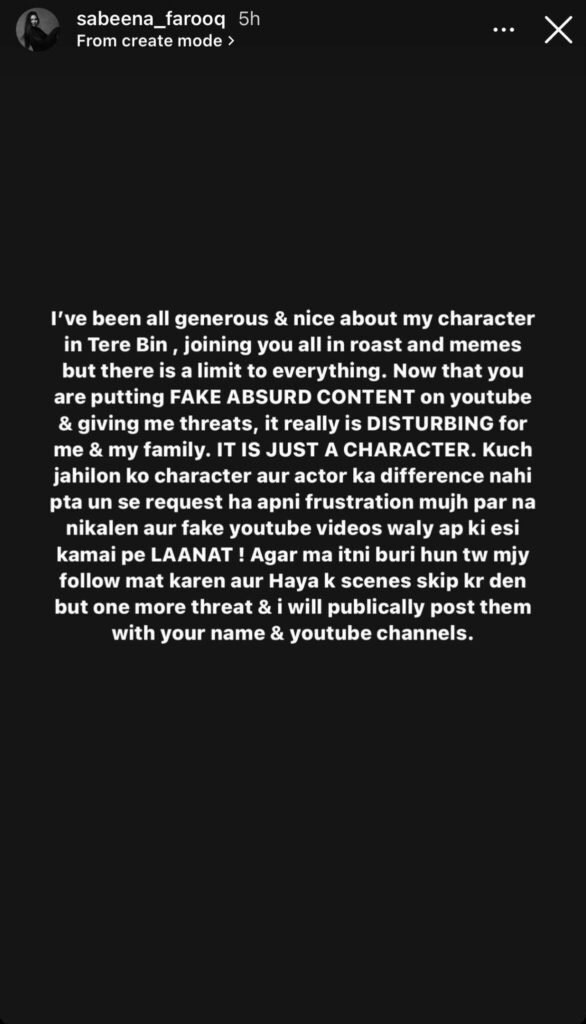 Tere Bin- Sabeena Farooq- Haya
In addition to her previous message, she addressed those who cannot differentiate between an actor and their character, calling them "idiots." She urged them to stop taking out their frustrations on her and cursed those who earn money by creating fake YouTube videos. She warned that if anyone threatens her again, she will publicly expose them, including their name and YouTube channel.
Sabeena Farooq's character, Haya, is the cousin of Murtasim, played by Wahaj Ali, who is hopelessly in love with him. Murtasim eventually marries Meerab, played by Yumna Zaidi, who initially does not reciprocate his feelings. Despite seeing their love story develop, Haya becomes jealous and goes to extreme lengths to keep them apart, even resorting to black magic.
Tere Bin premiered on December 28 and quickly gained popularity among fans. Written by Nooran Makhdoom and directed by Siraj ul Haq, the drama features Zaidi and Ali in the lead roles.
The cast also includes Bushra Ansari, Sohail Sameer, Hira Soomro, Fazila Qazi, and others.
The story revolves around two individuals from different backgrounds, with a twist that brings them together. Meerab is an independent woman who refuses to conform to Murtasim's family traditions and societal barriers. The drama showcases their struggles to overcome their differences and the conflicts that arise as a result.
Read More: Hareem Shah Landed In Trouble After Her Private Videos Went Viral