ISLAMABAD: Pakistan Stock market today lost more than 800 points in reaction to the State Bank of Pakistan decision to further increasing the discount rate.
The central bank has raised the discount rate to 16 percent record high, shattering the investors' confidence which was evident from over 500 points loss in trading at stock market.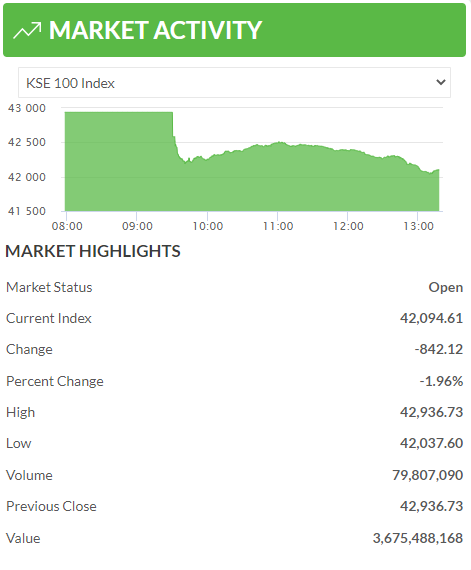 The Pakistan Stock Exchange's (PSX) benchmark KSE-100 index had closed at 42,936.73 points last week and on Monday it was trading around 42,094 points till the filing of this report at 1:20 pm.
Analysts are blaming SBP's decision to increase the interest rate as a key factor for the drop in the KSE-100 index.
Also, record high inflation too impacted the capital market.
With 16 percent discount rate, the domestic banks would be charging around 25 to 28 percent markup on loans to consumers _ other than mega companies.
The stock market has taken hike in discount rate negatively as a result of which the investors off-loaded their stakes in panic on Monday.