KARACHI/ISLAMABAD: Pakistan Stock Exchange crashed today amid growing political and economic uncertainty in the country along with delay in disbursement of IMF tranche.
The KSE-100 benchmark index of the PSX lost more than 1,330 points during the intra-day trading on Tuesday and fell to 38,371 points at 3:15pm.
Investors offloaded shares in panic because of unexpected delay in the disbursement of next tranche by the International Monetary Fund's (IMF).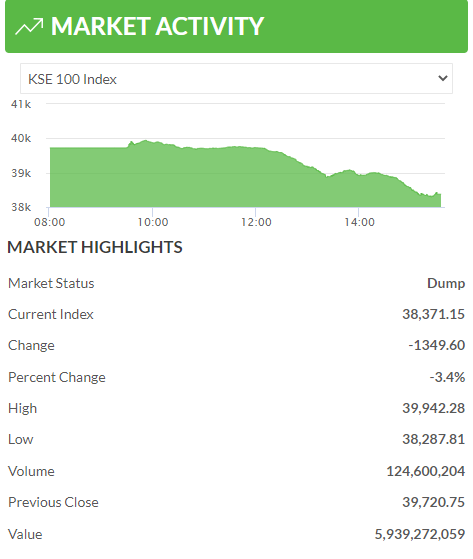 According to analysts, the stock market was already under pressure because of political uncertainty as Khyber Pakhtunkhwa Chief Minister Mahmood Khan is dissolving assembly today.
The market came under more pressure due to delay in the release of IMF loan, experts added.
Experts said the IMF's harsh conditions, including an end to government/SBP control on the exchange rate, further hike in gas prices and elimination of the circular debt have caused more panic in the stock market.
Also, expected increase in the benchmark interest rate at the SBP's upcoming Monetary Policy Committee meeting also wiped out value of shares in stock market.
More to follow…………….