ISLAMABAD: Pakistan's fuel oil imports recorded a massive 60% decline in the month of April this year.
In the US dollars, in April 2023, the oil imports fell to $891 million, compared to $2.23 billion in April 2022. Thus, on a yearly basis, the oil imports dropped by 60% last month.
The Pakistan Bureau of Statistics (PBS) has reported this development in its latest data released on Monday.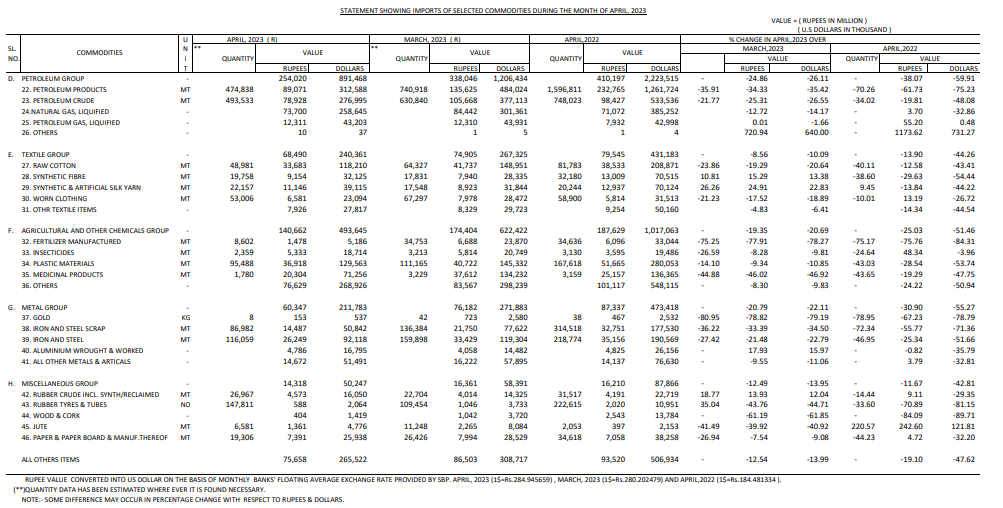 In April this year, the total import bill of Pakistan also fell by 21.46% on a month-on-month basis and 55% on a yearly basis. In April 2023, the national imports fell to $3.81 billion, from $6.66 billion in April 2022.
With regards to the transport sector, the import bill fell 32.74% MoM and a significant 82.73% YoY in April 2023.
This huge decline was mainly seen in imports of road motor vehicles (build unit, CKD/SKD). It dropped to $62.66m compared to $87.89m in March 2023 and $275.35m in April 2022, according to Mettis Global.
The import of medicinal products went down by 47.75% YoY and 46.92% MoM in April 2032 to clock in at $71.25m.
Whereas, the country's food imports narrowed by 33.61% MoM and 36.88% YoY to $429.11m in April 2023 as compared to $646.34m in March 2023 and $679.86m over the corresponding period last year.
Although, exports also declined by 29.11% in the month of April, this massive 60% plunge in import bills improved the county's trade deficit by a significant margin, reflecting the impact of import restrictions lately.
Consequently, Pakistan's merchandise trade deficit for the month of April 2023 clocked in at $860m compared to a deficit of $3.76bn in April 2022, plummeting by 77.15% YoY.
Similarly, on a sequential basis, the deficit shrank by 40.44% MoM from $1.44bn in March 2023.
Amidst economic slowdown in the country's major export market, energy shortages, and frequent closure of local manufacturing units, the exports registered a decrease of 26.23% YoY and around 10% MoM to $2.1bn.
Cumulatively, within 10MFY23, the trade deficit stood at $23.7bn, narrowed by 39.65% YoY compared to the deficit of $39.27bn recorded in the same period last year.