New year, new rates: US dollar continues to climb:
New year, new rates: US dollar continues to climb
The government's emergency measures, which included a promise to further crack down on smuggling and the use of illicit money transfer services like hawala and hundi, did not receive a strong response on the currency market, as the rupee lost ground on Tuesday Morning.
One US dollar cost 83 paisas more in the early interbank rates to Rs227.25. from Friday's close.
Last week, on the penultimate day of the year, which was also the last trading day, the rupee fell to Rs226.43 in the interbank market.
Despite the fact that Monday, January 2 was a bank holiday, the dollar continued to fall as soon as the market opened on Tuesday morning.
This was in response to news that Pakistan's currency reserves held by the State Bank of Pakistan had fallen below the level of reserves held by commercial banks.
Value of US Dollar in Pakistani Rupee
May 9, 2018 – December 30, 2022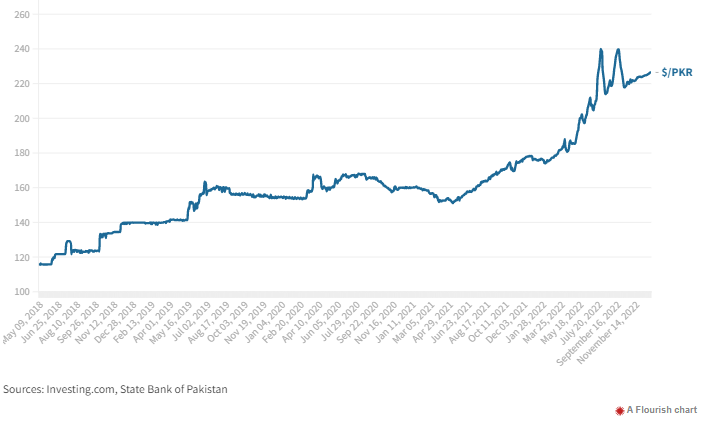 Earlier, Dar said Govt Launching Crackdown Against 'Hawala/Hundi' Dealers.
The federal government is planning a crackdown on those involved in the hawala and hundi business, which will undermine the dollar-rupee exchange rate, remittances, and economy.
Senator Muhammad Ishaq Dar, the Federal Minister of Finance, revealed this during a meeting on Monday.
The meeting in Islamabad was attended by the Prime Minister's Special Assistant on Economy Tariq Pasha, the finance secretary, officials from the Federal Investigation Agency (FIA), and representatives from foreign currency dealers.
Also Read https://thetruthinternational.com/economy/govt-launching-crackdown-against-hawala-hundi-dealers-says-dar/