Indus Motor Company (IMC) has raised the prices of several Toyota vehicles by Rs200,000-Rs890,000 for the second time in less than a month.
Despite a significant drop in sales as a result of the manufacturing stoppage.
According to the Toyota company:
The negative consequences of economic instability and the highly volatile rupee on manufacturing costs have made it difficult for the company to sustain the current proposed selling price.
And requiring it to move some of those costs onto the market.
According to IMC:
The new pricing is susceptible to change, and all orders will remain to be subject to the prices in place at the time of delivery.
The new Toyota Yaris price for the 1.3 MT, 1.3 CVT, 1.3 H MT, 1.3 H CVT, 1.5 MT, and 1.5 CVT is Rs4.279 million, Rs4.549 million, Rs4.519 million, Rs4.749 million, Rs4.869 million, and Rs5.169 million, an Rs200,000-240,000 increase.
The Corolla 1.6 MT, 1.6 CVT, 1.6 CVT Upsspec, 1.8 CVT, 1.8 CVT SR, and 1.8 CVT SR BLK now cost Rs5.529m, Rs6.059m, Rs6.659m, Rs6.369m, Rs6.939m, and Rs6.979m, respectively.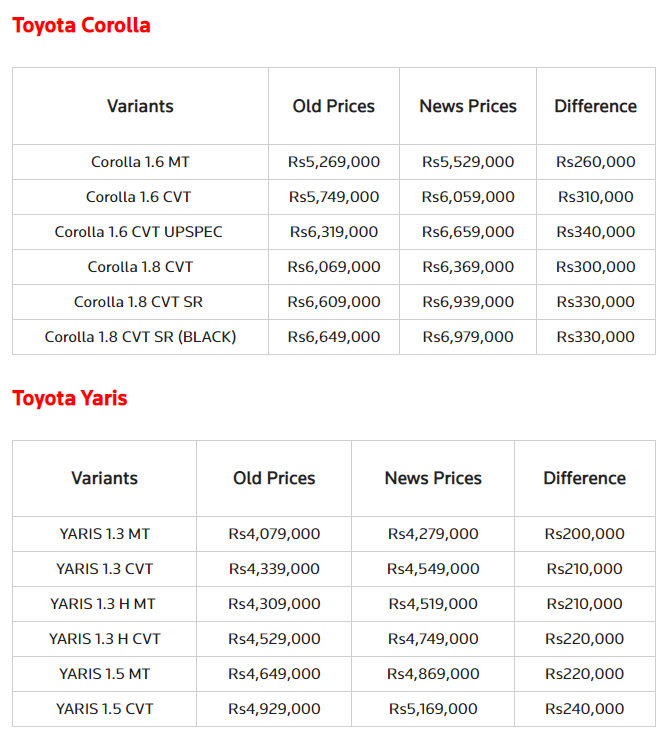 This is an Rs260,000-340,000 gain.
In Addition,

The Hilux STD, STD U/S, Deckless, 4×4, and ZTR have increased in price by Rs. 310,000-450,000.
Having new prices of Rs. 6.729m, Rs. 6.759m, Rs. 6.229m, Rs. 8.909m, and Rs. 6.449m.
Revo STD, G MT, G AT, V AT, and V AT ROCCO prices have been updated.
New prices are Rs10.229m, Rs11.089m, Rs11.629m, Rs12.859m, and Rs13.559m, with a price increase of Rs500,000-660,000.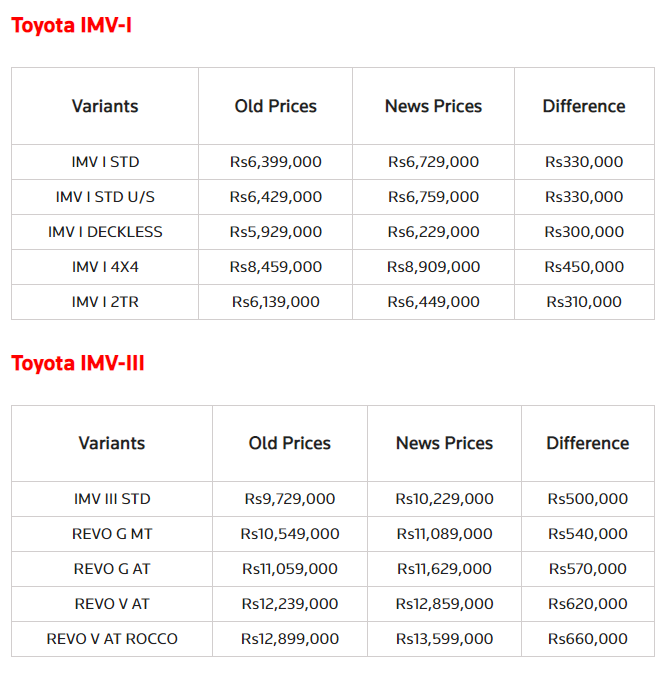 Furthermore,
Fortuner LO Petrol, High Petrol, Diesel, and Diesel Legender prices have increased by Rs 690,000-$890,000 to Rs14.109m, Rs16.159m, Rs17.029m, and Rs17.95m, respectively, from Rs13.41v9m, Rs15.459m, Rs16.189m, and Rs17.069m.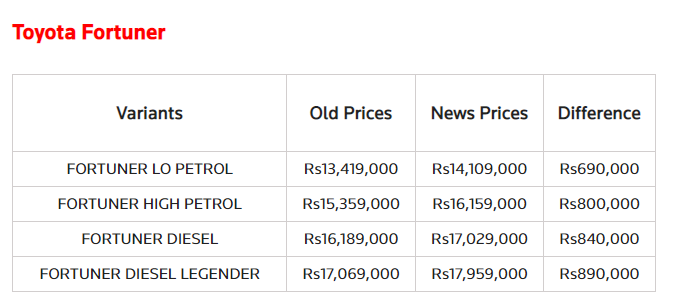 Read More: Toyota IMC's Profit Down By 74% Due To Economic Crisis