Honda jacks up prices citing uncertain economic conditions:
Honda Atlas Cars Ltd. (HACL) raised the prices of several models by Rs300,000 to Rs550,000 effective Monday, citing unstable global economic conditions, rising material costs, and currency exchange rate volatility.
According to a notice sent to its dealers, the company said:
"keeping in view the uncertain economic conditions, inflation in material cost and volatility of forex, HACPL was compelled to pass part of this adverse impact through price increase".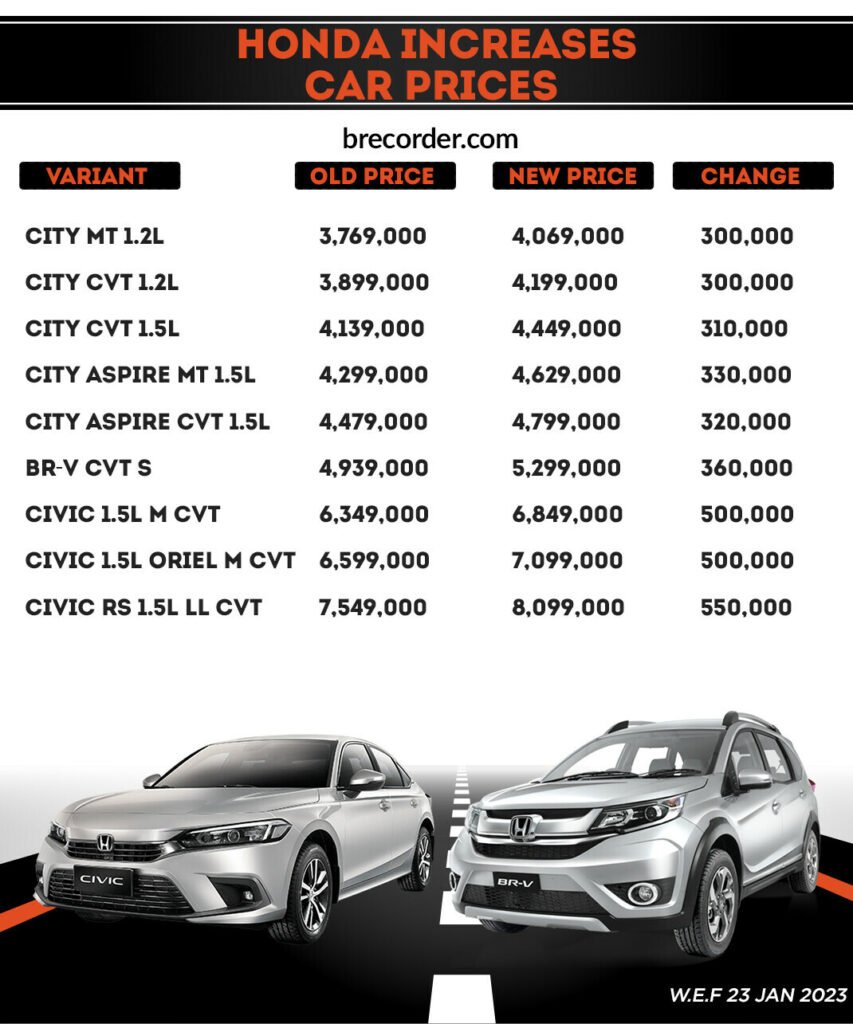 The Honda City MT 1.2L and CVT 1.2L now cost Rs4.069 million and Rs4.199 million, respectively, up from Rs3.769 million and Rs3.899 million.
The City CVT 1.5L, City Asp MT 1.5L, and City Asp CVT 1.5L have increased in price by between Rs310,000 and Rs330,000 to Rs4.449, Rs4.629, and Rs4.799, respectively, up from Rs4.139, Rs4.299, and Rs4.479.
HACL has raised the prices of the BR-V S, HR-V VTI, and HR-V VTI S by between Rs360,000 and Rs400,000 to Rs5.299m, Rs6.399m, and Rs6.599m, from Rs4.939m, Rs5.999m, and Rs6.199m, respectively.
Honda Civic 1.5L M CVT, Oriel M CVT, and 1.5L LL CVT prices have risen by Rs500,000-550,000 to Rs6.849m, Rs7.099m, and Rs8.099m, from Rs6.349m, Rs6.599m, and Rs7.549m, respectively.
Indus Motor Company (IMC), the Toyota vehicle manufacturer, raised prices by anywhere between Rs280,000 and Rs1.2 million in the second week of this month.
The rates will be applicable from January 23, 2023.